cc licensed ( BY SA ) flickr photo shared by Alan Levine
Today's ds106 Daily Create comes from Wikipedia's page on surrealistic techniques:
"Create a Self Portrait Cubomania Style — Cubomania is a surrealist method of making collages in which a picture or image is cut into squares and the squares are then reassembled without regard for the image."
en.wikipedia.org/wiki/Cubomania
I used a photo I often make my icon, a self portrait shot in a mirror

cc licensed ( BY SA ) flickr photo shared by Alan Levine
I ran this through the Big Huge Labs Hockneyizer tool with the polaroids turned off to get this image, which is somewhat (not exactly) cubed, but close enough for me
It seemed like some effects could be done since it is symmetrical, but not perfectly, and putting it into layers might make for some fun…
I imported it into Photoshop, made a copy of the layer, and flipped it horizontally. After that I deleted various squares in the top layer to expose the original, flipped a few of them, and copied a few to other squares.
This animated GIF gives a sense of the different between the layers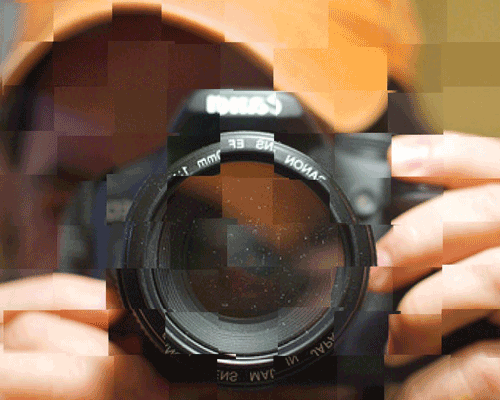 I have no regard at all for the image. A fun way to play with a quick app, but then take it a few steps farther… If you have not come across Big Huge Labs check them out, a great set of free effects and manipulations you can do to images, even pull your photos directly from flickr.