This is just a test for Rochelle Lockridge, who is getting her chops as a new DS106 radio DJ. It's been a really really long time since I used Nicecast, so I just took a few minutes to refresh myself for the set up I used previously for being able to DJ music and cross fade with audio.
It's pretty much what I wrote before as my first guide to Nicecasting.
This is the setup I just tested (running the local server and setting the archive on means I can record a test session and verify)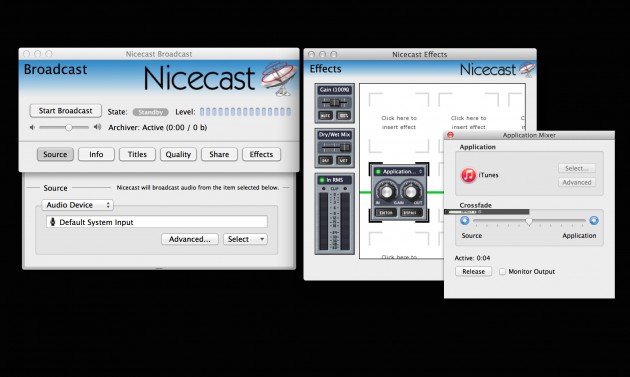 And the audio walkthrough I did mixing me with some ACDC Sin City playing in iTunes
The steps are:
Start a broadcast (test with server being the local one)
Set your source to be your mic
Open Effects and install the Application Mixer, if settings do not pop up, click "edit"
Select iTunes (or another source) to be you Application.
Click the Hijack button to grab that as audio (you may get a notice about having to quit Nicecast; it's better to use the option to install the Instant On thing, this not only keeps you from restarting, you can swap applications in the middle of a broadcast)
Use the sliders to go for all mic (source) or all music (Application) or somewhere in the middle to mix
Do not check the monitor box, that only lets you hear the application all the time.
Enjoy
creative commons licensed (BY) flickr photo by pasukaru76: http://flickr.com/photos/pasukaru76/3605234342
The post "Nicecast Mixing" was originally thawed from a previous ice age and melted at CogDogBlog (https://cogdogblog.com/2014/12/nicecast-mixing/) on December 11, 2014.