My "involvement" in #rhizo15 is pretty much listening to the tea leaves in twitter, today's bits had a fair bit of rumbling about "Content is People!" When I read Simon's post I really had expectations of a DEVO song.
But in reading/watching Dave's question about the Myth of Content, the "people are content" thing is not nearly as interesting as to what I think he asks is what is the human/teacher/learner relationship to content – is it everything, or nothing, or something in between?
(That was a rather poor paraphrasing).
There is a resonance as I have been ever so slowly working on a paper to submit to Hybrid Pedagogy based a lot on my recent fellowship at TRU and the work with Brian Lamb on the You Show.
I've been talking about the idea with a number of colleagues, and just need to get some words down on paper (actually I did some on a recent flight).
My question, which seems in the realm of the #rhizo15 topic, is what of courses were propelled/driven by something other than content? It seems like the things we put on the syllabus become the main source of propulsion for a course.
I do not dismiss them, but speculate, what if something else drew courses together– a narrative? a genre? a plot? (the exact finding of the right word has failed). Okay, here are some preliminary first bits:
The You Show as One Approach to Propelling Course by a Narrative

Typically the driver for a course is the content it covers, spelled out, with no mystery, in a syllabus. Anything outside of this scope is outside of the course. What then is the "plot" of a course? Is it to reach the final exam? Is there a sequel? Does it end abruptly with "The End"? Is it ever part of a larger life narrative or is it just a single episode?

In this paper we explore the idea of narrative, genre, metaphor as an overarching arcs that can drive a course. Content is not dismissed; like a building it is infrastructure, support, and foundation. But on its own does content provide the best motivation for learners and teachers?

Much of the inspiration and examples discussed here come from the open digital storytelling course/community of ds106, originally developed by Jim Groom and colleagues at the University of Mary Washington in 2010. First offered as an open course in 2011, influenced by the first wave of Connectivist MOOCs, ds106 has morphed into more than 18 versions offered at 15 institutions.

One of our most effective elements of storytelling is framed by author Kurt Vonnegut

And so we add to the questions– what is the shape of a course? What might be on the vertical axis, unless good fortune/ill fortune is a student's grade? Are the peaks and valleys mostly defined by assessments and assignment deadlines? Or perhaps a more powerful shape?

While its content (online media creation in written, visual, audio, and video formats) is relatively consistent, as produced ds106 has been produced as everything from a participant driven performance narrative to genre and literary themes. After introducing an array of examples, we focus on a particular iteration the authors developed and delivered as an open professional development seminar in 2015 at Thompson Rivers University.

Expecting you as a reader to respond "fine, that works for a course in creative skills and narrative exploration" we include suggestions of and specific examples of other subjects taught in a mode where the dominant theme is not the content.

The failed search for a definition
We concede the lack of a perfect term to call this concept; while we use "narrative" we cast in broader than a literary term to encompass:

The course itself has a fictional component of character and plot, with participants influencing the story line
An over arching metaphor (e.g. a TV show, a fictional company) used as a unifying thread to introduce content and assignments
A genre, theme, or body of work used as a frame for all or most of the assignments
Those are more or less some beginning notes. Blogging it here becomes my own motivator to get back on it.
This began forming as a seed when Brian and I were concocting our series of videos for our PD seminar. It struck me, as I was spending a fair number of hours each week, that I was creating them as something that was not in any clear way part of the course "content". That people could could read the weekly emails, blog posts, and never watch the videos.
Why would I create media, and especially self declared crappy quality videos, that were not in the syllabus? For the most part, any use of video in a course was either lecture, or course intros talking about lectures.
Having a metaphor (a TV show) was for us, loosely defined as teachers, something that (a) energized us (b) made us continually how the "story" played out in the videos supported the topics and activities we wanted people to do; and (c) gives the course a sense of what Jim Groom had described as "eventness" — it signaled to others "something is happening" and hopefully having them think "I want to be part of that"
Yes, much of what I will draw on is from DS106, and it goes right back to Jim's spinning of the summer of 2011 version of DS106 into the Summer of Oblivion as something so driven by narrative that the course itself became a story, with students writing parts of it. He explained it much better than I can in a recent HumanMOOC hangout — the phrase of "Triggering Event" is one I want to latch onto
The ironic thing was in 2011, seeing that Michael Branson Smith was working on his own flavor of DS106 featuring a "Journey to the Center of the Internet" I really questioned this idea of a course needing a narrative:
So here is a fence I am sitting on.

It seemed to me there is a tacit assumption that ds106 needs a narrative, a story like Dr Oblivion.

Is that so?

Do not get me wrong, what was woven with the Dr Oblivion saga was wonderfully weird (etc, you know my favorite stuff) and suspended out there past the cutting edge. But does it set up an expectation that this is needed to tie the course together? Might it also possibly, I hate almost to say… get in the way? Can it potentially overwhelm the creativity part?
Then a year later, I was co-teaching ds106 with Martha Burtis at Camp Magic MacGuffin a narrative of a placid Summer Camp where things were not quite what they projected to be. We laughed because our first planing meeting, we were not fine tuning a syllabus, but designing the t-shirts.
When I taught ds106 in Spring 2013, online for UMW, I created a bit of a motif as short unit intros of a weekly TV talk show, I was always in black and white, like I was time traveling from the 1960s. These were done as Google Hangouts, and my students had a requirement to help co-host at least one episode:
http://ds106.us/category/the-site/the-show
Each started with a short video redub of an old TV show. It was not course content.
The version I did on Spring of 2014 as an online course for George Mason University had a theme of "Storytelling Goes to Work" because all of my students were full time working employees of a major consulting firm. For this class, I made a weekly intro video with the idea that a corporate type company rep had to meet with some hippie web developer type (I played both parts):
So I was making videos that were not essential to the content, and creating a bit of a story arc as these two characters interacted over the 10 weeks of the course. And thus, you see a direct line from there to the You Show.
But it need not be narrative- the approach Jim and colleagues have taken to teaching DS106 by centering it on a genre- the Twilight Zone theme of Summer 2013, using the TV show The Wire in Fall of 2014, and the most recent iteration using noir fiction.
These do not make a fictional narrative the driver, but provides a target or material source for the work students do.
In these cases, the "narrative" or "genre" arc give the course a certain scope of continuity (like in movie making) to adhere to. If you break continuity, then it breaks the arc.
I have gotten leads form a few others on other course outside of ds106 where metaphor drives the course. I can use more examples! Or a test if this makes sense.
The question will always come down to- why would I put more time into energy to teaching my course by adding these narratives or recasting assignments to fit a theme? Why not just stick with the content?
The answer will get more developed, but I know form having done a few of these, is that it changes every bit of focus and enthusiasm I have for teaching. That cannot help but spread to most students (or is that my assumption?).
So I find myself rather far from thinking about content as the driver of my course, it's there as support and over archiving infrastructure (like topics), but I doubt I could every teach with the content being the primary driver.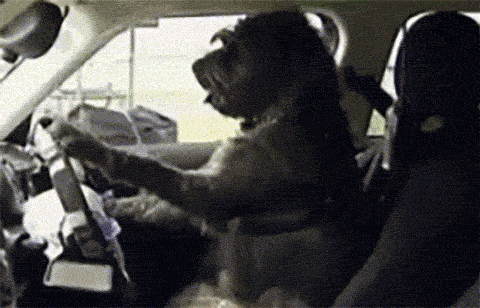 What's driving your course?
---
Animated GIF I am The Designated Driver from GIFBAY