My long term infatuation with flickr may be my undoing… (skipping past the gripes about flickr's design changes) (also skipping past whatever monkey goo that Google is offering for your photos) (anything else?).
To me, what's more important about flickr is what you do not see on the site or the (still partly crippled) mobile app. It's about the data, man. The metadata, woman. And the API.
Enough pre-amble.
Yesterday, a long series of tweets about cameras and lens started because Gardner Campbell was looking for lens suggestions (his daughter has a neat summer art/photography project)
Ok photo people: New DX Nikon for @jeenbeecampbell. Which first prime lens: 35mm or 50mm? @twoodwar @cogdog

— Gardner Campbell (@GardnerCampbell) May 30, 2015
I still stand by my nifty 50 lens, but that's not the point.
The thing is when you upload photos to flickr, information embedded in the image travels with it, not only date, but things like the camera model and lens, and much much more. As Tom Woodward pointed out
@GardnerCampbell @jeenbeecampbell @cogdog also keep in mind you can browse flickr by lens http://t.co/Yu3zuoDiGo

— Tom Woodward (@twoodwar) May 30, 2015
the Flickrriver site has a great tool that lets you see photos shared in flickr taken with various lenses, so one way to decide maybe how images compare with the Nikon 50mm f/1.4D vs the Nikon 50mm f/1.8D.
I have a 2009 post on my camera history up til then, but the flickr searches that once worked to list of my photos taken with the cameras seems busted and even with yesterday's tinkerings, I can't get the older camera model parameters to work (this links shows all my photos taken with my current Canon 7D).
And down the hole I went…
I found a pair of 2008 blog posts that showed some extra search parameters you can use in flickr search to filter results by aperture and focal length.
It took some playing around, but I ended up doing things like looking for all flower photos taken with a particular camera and setting: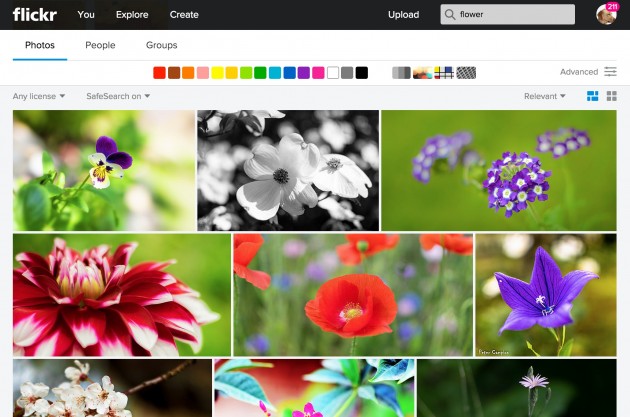 Breaking down the URL, means I am asking for all photos labeled "flower" taken with a Nikon D300 with a maximum aperture of 2.0
https://www.flickr.com/search/?<strong>camera=nikon%2Fd3300</strong>&<strong>exif_max_aperture=2.0</strong>&<strong>text=flower</strong>
Or I can search for all my own photos where the maximum aperture was 1.6 (my shallow depth of field photos). It says there are 2153 of them, that seems low. I shoot a lot wide open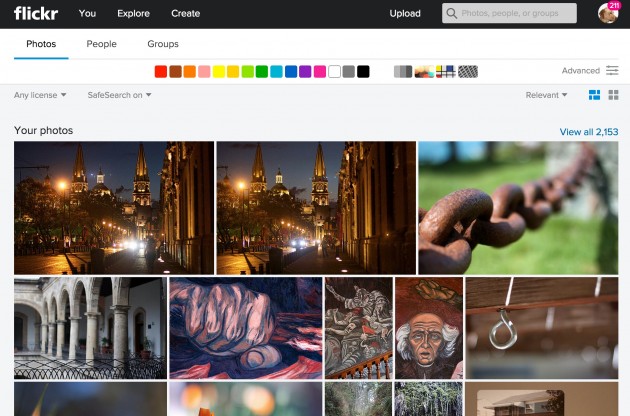 That first w= string is my user id. It's left as an exercise for the URL reader to make that a search that shows all photos where the maximum aperture is f/5.6
https://www.flickr.com/search/?<strong>w=37996646802@N01</strong>&q=&<strong>exif_max_aperture=1.6</strong>
Or flip it to see how many I have where I shoot at f/22 or smaller — the min/max bigger/smaller on aperture is always confusing low aperture numbers is a bigger hole of light and give shallow depth of field; high aperture numbers is a tiny hole and give deep depth of field.
But you can also add elements for maximum or minimum focal length so getting back to Gardner's quest, let's compare photos tagged road, where the maximum aperture is f/1.8 and the maximum focal length is 50mm – one can see these are wide open aperture shots of "roads" taken with a maximum focal length 50mm lens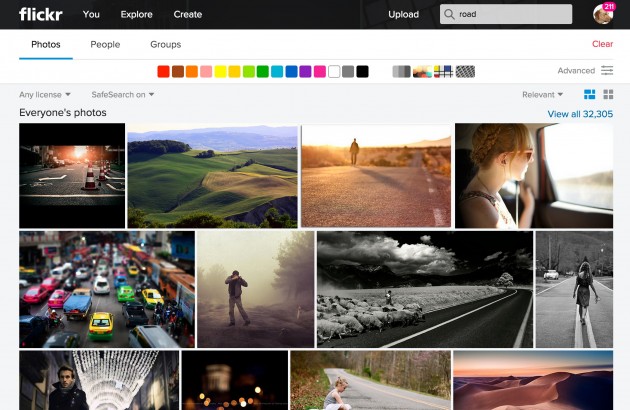 Or for URL readers… (get how it works?)
https://www.flickr.com/search/?exif_max_aperture=1.8&exif_max_focallen=50&tag_mode=all&z=t&advanced=1&tags=road
And we compare that to the same except setting the maximum focal length as 35mm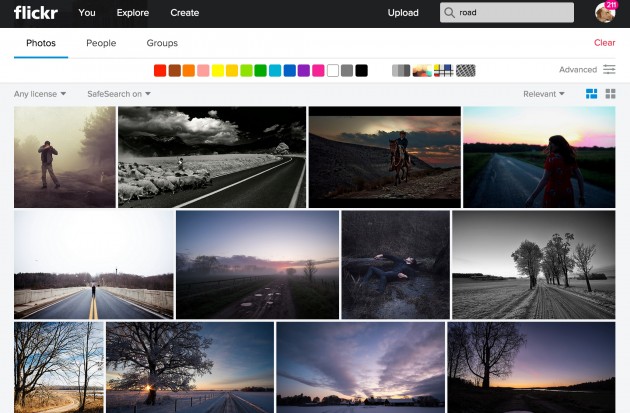 https://www.flickr.com/search/?exif_max_aperture=1.8&exif_max_focallen=35&tag_mode=all&z=t&advanced=1&tags=road


Does that help pick lenses? Maybe not. There are differences because of different photographers and subjects. But hey, I am not a camera comparison lab.
I just like to monkey around with URLs and hidden search parameters.
How much data goes with a photo? You can explore with the Flickr API Garden for the one that lets you see what the API returns for EXIF data from a single photo. If you plug in the ID for a recent (or any flickr) photo: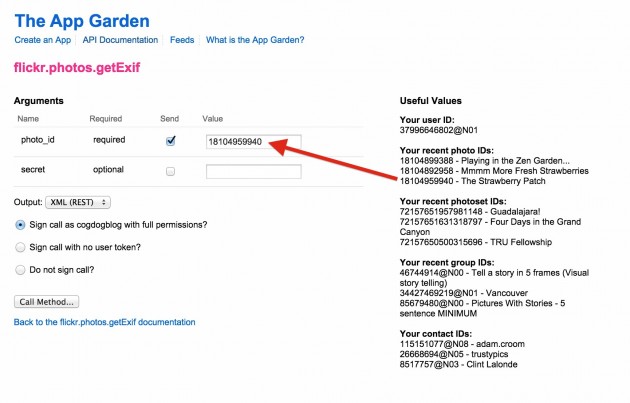 You get a whack sock of information (way more than you can use on the search form). If you scan closely, you might see at the end my own custom metadata that I add to every photo I save in Aperture (good luck getting that feature in the new Apple Photos app), including my creative commons license. This information travels with the original photo whereever it goes (well except for the different size copies that flickr makes, they squeeze out the meta data on derivative sizes).
There is a virtual universe of information you can maybe appreciate, and perhaps start to want to get a better understanding of what can be done with APIs. I am just about one step down that road…
1

2

3

4

5

6

7

8

9

10

11

12

13

14

15

16

17

18

19

20

21

22

23

24

25

26

27

28

29

30

31

32

33

34

35

36

37

38

39

40

41

42

43

44

45

46

47

48

49

50

51

52

53

54

55

56

57

58

59

60

61

62

63

64

65

66

67

68

69

70

71

72

73

74

75

76

77

78

79

80

81

82

83

84

85

86

87

88

89

90

91

92

93

94

95

96

97

98

99

100

101

102

103

104

105

106

107

108

109

110

111

112

113

114

115

116

117

118

119

120

121

122

123

124

125

126

127

128

129

130

131

132

133

134

135

136

137

138

139

140

141

142

143

144

145

146

147

148

149

150

151

152

153

154

155

156

157

158

159

160

161

162

163

164

165

166

167

168

169

170

171

172

173

174

175

176

177

178

179

180

181

182

183

184

185

186

187

188

189

190

191

192

193

194

195

196

197

198

199

200

201

202

203

204

205

206

207

208

209

210

211

212

213

214

215

216

217

218

219

220

221

222

223

<?

xml

version

=

"1.0"

encoding

=

"utf-8"

?>

<

photo

id

=

"18104959940"

secret

=

"61e78f3fd0"

server

=

"7761"

farm

=

"8"

camera

=

"Canon EOS 7D"

>

<

exif

tagspace

=

"JFIF"

tagspaceid

=

"0"

tag

=

"JFIFVersion"

label

=

"JFIFVersion"

>

<

exif

tagspace

=

"JFIF"

tagspaceid

=

"0"

tag

=

"ResolutionUnit"

label

=

"Resolution Unit"

>

<

exif

tagspace

=

"JFIF"

tagspaceid

=

"0"

tag

=

"XResolution"

label

=

"X-Resolution"

>

<

exif

tagspace

=

"JFIF"

tagspaceid

=

"0"

tag

=

"YResolution"

label

=

"Y-Resolution"

>

<

exif

tagspace

=

"IPTC"

tagspaceid

=

"0"

tag

=

"CodedCharacterSet"

label

=

"Coded Character Set"

>

<

exif

tagspace

=

"IPTC"

tagspaceid

=

"0"

tag

=

"ApplicationRecordVersion"

label

=

"Application Record Version"

>

<

exif

tagspace

=

"IPTC"

tagspaceid

=

"0"

tag

=

"By-line"

label

=

"By-line"

>

<

exif

tagspace

=

"IPTC"

tagspaceid

=

"0"

tag

=

"City"

label

=

"City"

>

<

exif

tagspace

=

"IPTC"

tagspaceid

=

"0"

tag

=

"Headline"

label

=

"Headline"

>

<

raw

>

The

Strawberry

Patch

<

/

raw

>

<

exif

tagspace

=

"IPTC"

tagspaceid

=

"0"

tag

=

"Caption-Abstract"

label

=

"Caption- Abstract"

>

<

raw

>

Still

hoping

the

birds

do

not

find

these

!

Don

't tell '

em

.

<

/

raw

>

<

exif

tagspace

=

"IPTC"

tagspaceid

=

"0"

tag

=

"CopyrightNotice"

label

=

"Copyright Notice"

>

<

raw

>

This

photo

by

Alan

Levine

is

licensed

under

a

Creative

Commons

Attribution

4.0

International

License

(

http

:

//creativecommons.org/licenses/by/4.0/)</raw>

<

exif

tagspace

=

"IPTC"

tagspaceid

=

"0"

tag

=

"Keywords"

label

=

"Keywords"

>

<

exif

tagspace

=

"IPTC"

tagspaceid

=

"0"

tag

=

"Province-State"

label

=

"Province- State"

>

<

exif

tagspace

=

"Photoshop"

tagspaceid

=

"0"

tag

=

"IPTCDigest"

label

=

"IPTCDigest"

>

<

raw

>

8ea427e5f71da7ec73b9fa8935ff653e

<

/

raw

>

<

exif

tagspace

=

"ICC-view"

tagspaceid

=

"0"

tag

=

"ViewingCondIlluminant"

label

=

"Viewing Cond Illuminant"

>

<

raw

>

19.6445

20.3718

16.8089

<

/

raw

>

<

exif

tagspace

=

"ICC-view"

tagspaceid

=

"0"

tag

=

"ViewingCondSurround"

label

=

"Viewing Cond Surround"

>

<

raw

>

3.92889

4.07439

3.36179

<

/

raw

>

<

exif

tagspace

=

"ICC-view"

tagspaceid

=

"0"

tag

=

"ViewingCondIlluminantType"

label

=

"Viewing Conditions Illuminant Type"

>

<

exif

tagspace

=

"ICC-meas"

tagspaceid

=

"0"

tag

=

"MeasurementObserver"

label

=

"Measurement Observer"

>

<

exif

tagspace

=

"ICC-meas"

tagspaceid

=

"0"

tag

=

"MeasurementBacking"

label

=

"Measurement Backing"

>

<

exif

tagspace

=

"ICC-meas"

tagspaceid

=

"0"

tag

=

"MeasurementGeometry"

label

=

"Measurement Geometry"

>

<

exif

tagspace

=

"ICC-meas"

tagspaceid

=

"0"

tag

=

"MeasurementFlare"

label

=

"Measurement Flare"

>

<

exif

tagspace

=

"ICC-meas"

tagspaceid

=

"0"

tag

=

"MeasurementIlluminant"

label

=

"Measurement Illuminant"

>

<

exif

tagspace

=

"IFD0"

tagspaceid

=

"0"

tag

=

"Make"

label

=

"Make"

>

<

exif

tagspace

=

"IFD0"

tagspaceid

=

"0"

tag

=

"Model"

label

=

"Model"

>

<

exif

tagspace

=

"IFD0"

tagspaceid

=

"0"

tag

=

"Orientation"

label

=

"Orientation"

>

<

raw

>

Horizontal

(

normal

)

<

/

raw

>

<

exif

tagspace

=

"IFD0"

tagspaceid

=

"0"

tag

=

"ResolutionUnit"

label

=

"Resolution Unit"

>

<

exif

tagspace

=

"IFD0"

tagspaceid

=

"0"

tag

=

"Software"

label

=

"Software"

>

<

raw

>

Aperture

3.5.1

<

/

raw

>

<

exif

tagspace

=

"IFD0"

tagspaceid

=

"0"

tag

=

"ModifyDate"

label

=

"Date and Time (Modified)"

>

<

raw

>

2015

:

05

:

30

17

:

37

:

10

<

/

raw

>

<

exif

tagspace

=

"ExifIFD"

tagspaceid

=

"0"

tag

=

"ExposureTime"

label

=

"Exposure"

>

<

clean

>

0.017

sec

(

1

/

60

)

<

/

clean

>

<

exif

tagspace

=

"ExifIFD"

tagspaceid

=

"0"

tag

=

"FNumber"

label

=

"Aperture"

>

<

exif

tagspace

=

"ExifIFD"

tagspaceid

=

"0"

tag

=

"ExposureProgram"

label

=

"Exposure Program"

>

<

raw

>

Aperture

-

priority

AE

<

/

raw

>

<

exif

tagspace

=

"ExifIFD"

tagspaceid

=

"0"

tag

=

"ISO"

label

=

"ISO Speed"

>

<

exif

tagspace

=

"ExifIFD"

tagspaceid

=

"0"

tag

=

"ExifVersion"

label

=

"Exif Version"

>

<

exif

tagspace

=

"ExifIFD"

tagspaceid

=

"0"

tag

=

"DateTimeOriginal"

label

=

"Date and Time (Original)"

>

<

raw

>

2015

:

05

:

30

17

:

37

:

10

<

/

raw

>

<

exif

tagspace

=

"ExifIFD"

tagspaceid

=

"0"

tag

=

"CreateDate"

label

=

"Date and Time (Digitized)"

>

<

raw

>

2015

:

05

:

30

17

:

37

:

10

<

/

raw

>

<

exif

tagspace

=

"ExifIFD"

tagspaceid

=

"0"

tag

=

"ComponentsConfiguration"

label

=

"Components Configuration"

>

<

exif

tagspace

=

"ExifIFD"

tagspaceid

=

"0"

tag

=

"ExposureCompensation"

label

=

"Exposure Bias"

>

<

exif

tagspace

=

"ExifIFD"

tagspaceid

=

"0"

tag

=

"MaxApertureValue"

label

=

"Max Aperture Value"

>

<

exif

tagspace

=

"ExifIFD"

tagspaceid

=

"0"

tag

=

"MeteringMode"

label

=

"Metering Mode"

>

<

exif

tagspace

=

"ExifIFD"

tagspaceid

=

"0"

tag

=

"Flash"

label

=

"Flash"

>

<

raw

>

Off

,

Did

not

fire

<

/

raw

>

<

exif

tagspace

=

"ExifIFD"

tagspaceid

=

"0"

tag

=

"FocalLength"

label

=

"Focal Length"

>

<

exif

tagspace

=

"ExifIFD"

tagspaceid

=

"0"

tag

=

"SubSecTime"

label

=

"Sub Sec Time"

>

<

exif

tagspace

=

"ExifIFD"

tagspaceid

=

"0"

tag

=

"SubSecTimeOriginal"

label

=

"Sub Sec Time Original"

>

<

exif

tagspace

=

"ExifIFD"

tagspaceid

=

"0"

tag

=

"SubSecTimeDigitized"

label

=

"Sub Sec Time Digitized"

>

<

exif

tagspace

=

"ExifIFD"

tagspaceid

=

"0"

tag

=

"FlashpixVersion"

label

=

"Flashpix Version"

>

<

exif

tagspace

=

"ExifIFD"

tagspaceid

=

"0"

tag

=

"ColorSpace"

label

=

"Color Space"

>

<

exif

tagspace

=

"ExifIFD"

tagspaceid

=

"0"

tag

=

"FocalPlaneXResolution"

label

=

"Focal Plane X-Resolution"

>

<

clean

>

5715.545455

dpi

<

/

clean

>

<

exif

tagspace

=

"ExifIFD"

tagspaceid

=

"0"

tag

=

"FocalPlaneYResolution"

label

=

"Focal Plane Y-Resolution"

>

<

clean

>

5808.403509

dpi

<

/

clean

>

<

exif

tagspace

=

"ExifIFD"

tagspaceid

=

"0"

tag

=

"FocalPlaneResolutionUnit"

label

=

"Focal Plane Resolution Unit"

>

<

exif

tagspace

=

"ExifIFD"

tagspaceid

=

"0"

tag

=

"CustomRendered"

label

=

"Custom Rendered"

>

<

exif

tagspace

=

"ExifIFD"

tagspaceid

=

"0"

tag

=

"ExposureMode"

label

=

"Exposure Mode"

>

<

exif

tagspace

=

"ExifIFD"

tagspaceid

=

"0"

tag

=

"WhiteBalance"

label

=

"White Balance"

>

<

exif

tagspace

=

"ExifIFD"

tagspaceid

=

"0"

tag

=

"SceneCaptureType"

label

=

"Scene Capture Type"

>

<

exif

tagspace

=

"XMP-x"

tagspaceid

=

"0"

tag

=

"XMPToolkit"

label

=

"XMPToolkit"

>

<

raw

>

XMP

Core

5.4.0

<

/

raw

>

<

exif

tagspace

=

"XMP-aux"

tagspaceid

=

"0"

tag

=

"LensID"

label

=

"Lens ID"

>

<

exif

tagspace

=

"XMP-aux"

tagspaceid

=

"0"

tag

=

"Lens"

label

=

"Lens"

>

<

raw

>

Canon

EF

50mm

f

/

1.4

USM

<

/

raw

>

<

exif

tagspace

=

"XMP-aux"

tagspaceid

=

"0"

tag

=

"FlashCompensation"

label

=

"Flash Compensation"

>

<

exif

tagspace

=

"XMP-aux"

tagspaceid

=

"0"

tag

=

"Firmware"

label

=

"Firmware"

>

<

raw

>

Firmware

Version

1.2.5

<

/

raw

>

<

exif

tagspace

=

"XMP-photoshop"

tagspaceid

=

"0"

tag

=

"Headline"

label

=

"Headline"

>

<

raw

>

The

Strawberry

Patch

<

/

raw

>

<

exif

tagspace

=

"XMP-photoshop"

tagspaceid

=

"0"

tag

=

"City"

label

=

"City"

>

<

exif

tagspace

=

"XMP-photoshop"

tagspaceid

=

"0"

tag

=

"State"

label

=

"State"

>

<

exif

tagspace

=

"XMP-dc"

tagspaceid

=

"0"

tag

=

"Creator"

label

=

"Creator"

>

<

exif

tagspace

=

"XMP-dc"

tagspaceid

=

"0"

tag

=

"Description"

label

=

"Description"

>

<

raw

>

Still

hoping

the

birds

do

not

find

these

!

Don

't tell '

em

.

<

/

raw

>

<

exif

tagspace

=

"XMP-dc"

tagspaceid

=

"0"

tag

=

"Rights"

label

=

"Rights"

>

<

raw

>

This

photo

by

Alan

Levine

is

licensed

under

a

Creative

Commons

Attribution

4.0

International

License

(

http

:

//creativecommons.org/licenses/by/4.0/)</raw>

<

exif

tagspace

=

"XMP-dc"

tagspaceid

=

"0"

tag

=

"Subject"

label

=

"Subject"

>

<

exif

tagspace

=

"XMP-xmp"

tagspaceid

=

"0"

tag

=

"CreatorTool"

label

=

"Creator Tool"

>

<

raw

>

Aperture

3.5.1

<

/

raw

>

<

exif

tagspace

=

"XMP-iptcCore"

tagspaceid

=

"0"

tag

=

"CreatorWorkEmail"

label

=

"Creator Work Email"

>

<

raw

>

cogdogblog

@

gmail

.

com

<

/

raw

>

<

exif

tagspace

=

"XMP-iptcCore"

tagspaceid

=

"0"

tag

=

"CreatorRegion"

label

=

"Creator Region"

>

<

exif

tagspace

=

"XMP-iptcCore"

tagspaceid

=

"0"

tag

=

"CreatorCity"

label

=

"Creator City"

>

<

exif

tagspace

=

"XMP-iptcCore"

tagspaceid

=

"0"

tag

=

"CreatorWorkURL"

label

=

"Creator Work URL"

>

<

raw

>

http

:

//cogdogblog.com/</raw>
---
Top / Featured image credits: flickr photo by Leah Gregg http://flickr.com/photos/simonehudson/1879148204 shared under a Creative Commons (BY) license