Over the past year, what started as a small experiment to extend the presence of academic conferences beyond the badged entrance to those who cannot attend, has grown into a cool collaborative loosely organized project called Virtually Connecting. Many people have been joining in and the Slack channel is constantly buzzing.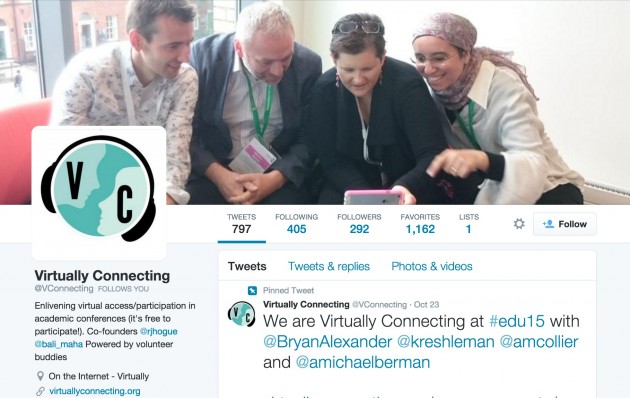 This is not about streaming/periscoping sessions from conference sessions/keynotes, it's more like using Google Hangout to share a bit of the hallway conversations. I've done a few of these as a "Remote Buddy" for the DigPed Lab Institute and the ALT-C conference, and am slated to be an "Onsite Buddy" this week for one day at EDUCAUSE 2015 in Indianapolis and next month at the Open Ed Conference in Vancouver.
I blogged some about the ALT-C buddy experience as Why I Woke Up at 5 AM (and stayed up til 4AM) for @VConnecting: The Connection Trick. The things I liked about being part of these was some of the pre-hangout set up, where the participants got some back stage talk and banter, the 15 or so minutes the onsite folks are present (conferences are busy and we do not want to pull away people for very long). The best ones for me have been where the online folks stay a bit and continue the conversation.
We are seeking more folks (ahem, that might mean YOU) to join us as Remote Buddies for the ones from EDUCAUSE 2015 this week. So as to not overload the folks at the conference and the volunteers pulling it off, we are only setting up one per day. I am doing one at 1:00pm Wednesday October 28 with Bryan Alexander, and Autumm Caines is doing them the next two days– Thursday with Kristen Esleman and Amy Collier, and Friday with Michael Berman.
All you really need to do to be a remote buddy is (a) be interested and (b) maybe set aside an hour for the hangout and discussion. It is just that, free form discussion about education, openness, ideas. Conversational. Open. Unplanned.
How to signup? We do not have a form or anything, but if you can participate in one of the sessions, see the times and guests listed for the EDUCAUSE Virtually Connecting sessions, and either leave a comment of interest on the post (please include your twitter name) or just tweet to @Vconnecting.
Did I mention it was fun? And that you will most likely expand your own virtual connections? We have people participating from around the world, and it seems like we add an Australian every day 😉
Who wants to play?
---
Top / Featured Image credits: flickr photo by | El Caganer – Over 5 Million views! http://flickr.com/photos/seat850/4450079406 shared under a Creative Commons (BY) license