OMG, the working conditions I have this month (/me ducks)… no that is my afternoon on Sunday at the beach I can walk to from the Sagrado campus (Sunday morning was spent working on web sites, ok?)
Seriously, it is full on weekdays and evening prep in the first 1 days here. So far I have done two workshops for students, planned two assignments of the INF115 class, tended the daily photo challenge site, met with faculty, did an interview.
The participation so far for the daily photo challenge has been about 9 per day, 182 total responses to 19 dailies. And the most enthusiastic participant is not even in our class.
The two workshops have been blogged Bringing the Cool Web Stuff to Puerto Rico and Inside the World of Catfishing.
The session last week for the class, GIF It Up, introduced animated GIFs among a more general group of what I have been calling Short Form video. I can skip having to explain animated GIFs, but it is a fun exercise to ask students why they think they are effective, why people share them.
I rely again on a collection of examples assembled originally for the UDG Agora Short Form Video Studio.
I could not have gotten a better set up response when (?was it Juan?) said that they can express a key moment in a movie. Literally. He was reading my mind.
My idea was to have the students practice making GIFs the easy way, with the giphy GIFmaker tool. Rather then just say "go out and GIF" I tried something we did in Western106 where I asked everyone to work with one movie scene as a source- this way we can see how different people choose the part to animate.
And Because I Could, I gave them a western scene to work with, the opening to Once Upon a Time in the West- in those eight minutes are tons of GIFable facial expressions and movement (the train, Bronson's harmonica, etc)
The "twist" I added was asking them to add caption that has a modern context, my hasty example focuses on the lack of good mobile connectivity in the west.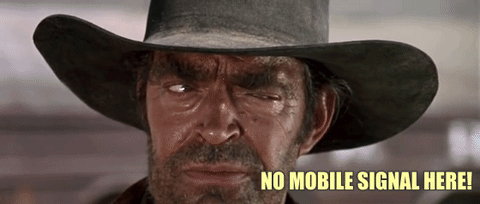 And we have already a few coming in from https://disponibilidad.wordpress.com/2016/02/10/one-gif/
The activity I set up for Monday was designed to have the students do something out of class– no not flipping, to have them spend part of the class time doing something active out of the classroom. Originally we talked of something like the DS106 Photo Safari, but Antonio and I hatched an idea to get the students started with understanding Audio.
The materials for The world of Sound: Recording Audio again have a lift from the UDG Agora Studio, including the listening activity to have them observe with their ears the soundscape of the room (a lot of A/C noise).
The activity is similar to the Vox Populi/ One Question challenge – they are asked to use their mobile phone as an audio recorder. The question we asked is a followup to a previous discussion on Wikipedia; the students are charged with collecting at least 3 different people who respond to a question about the value of Wikipedia as a reference or academic tool. To get them started, they were asked to interview each other, then to go out as pairs and find other students, maybe faculty to ask the question. I suggested they find a librarian and also consider asking a family member at home.
They are asked before next Wednesday to upload their audio to Soundcloud, and embed them in their blog (the students use WordPress.com blogs which need an upsell before they let you upload audio). The plan is next week to introduce them to editing in Audacity. I am suggesting we have them use clips from other students when they build their own Voice of The People segment.
In the rest of the month here, I have 2 faculty workshops to do (already fishing for ideas, Chicken on s Skateboard and all!), devise more class assignments, generate some ideas for the STEMmED web site, get Antonio set up with a multisite of SPLOT tools (all of which need some work on the theme options page)… and get to the beach again soon.
It's a great environment to work with enthusiastic faculty and students, plus get some R&D work… and get to the beach!
---
Top / Featured Photos: Dogs on the beach in San Juan, that's me last Sunday– my flickr photo https://flickr.com/photos/cogdog/24859688016 shared under a Creative Commons (BY) license