When the #OER16 plea to DS106 goes out…
Have you got your ticket yet? (help us make an #oer16 promo poster) ((calling #ds106)) https://t.co/znKl9N8dPr

— OER Open Education Conference (@OERConf) February 10, 2016
Of course a response needs to be made
The #oer16 conference sent a #ds106 Bat Signal for poster design help… now an assignment! https://t.co/JIguusEnLr https://t.co/Em47hb575S

— Alan Levine (@cogdog) February 10, 2016
So we have an Assignment in the DS106 Assignment Bank. But I wanted to do one.
Ticket.
Ticket.
"One Way" did not do it for me, but in my mind I heard the Beatles. Yes. Fans screaming for Open Education.
I found a nice photo in the Telegraph article on how the Fab Four had fans in Russia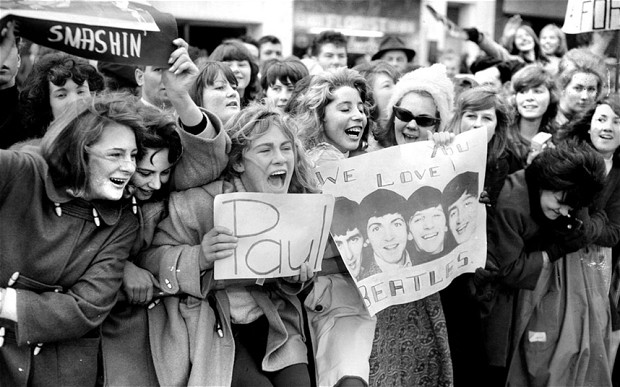 It's not licensed anything. Oh well. It's art. I'm going down.
but in my mind I saw re-writing the woman's sign labeled "Paul" and replacing the Fab 4 with the Keynote 5.
Some PhotoShop masking and clone brushing, and having handy a Sergeant Pepper font, I present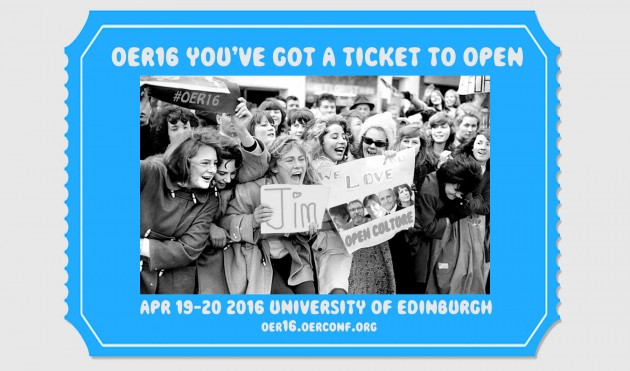 And this might be my first response to something in the Assignment Bank for like 2 years.
I

think

its

the

best

word

I

've got got a ticket to Open

I'

ve

got

got

a

ticket

to

Open

I

'

ve

got

got

a

ticket

to

Open
Have fun at #OER16 (sniff sniff, sad sad)
---
Top / Featured Image Credits: Screen capture from YouTube video https://www.youtube.com/watch?v=k9reE4UZZrA which I can guess is a Beatles cover band (?) — cause you are not likely to find much Beatles searching for images licensed for reuse.