For a while I was saving screen shots of some of the convoluted license statements I come across in Wikimedia Commons. There were ones where images were public domain in one country, but of course here in the US Congress every few years extends copyright like another 50 years.
One of the most "crappy" set of terms I found was actually on a photo of dog crap. You just cannot make this stuff up, and in fact you do not need to. The world provides these curious odd wonders on a regular basis (US Elections aside, sigh).
But then you find the opposite- the simplest, most understandable kinds of terms out there. I was writing a few more DS106 Daily Creates, and without giving away what the challenge is for June 3, 2016, I landed on the perfect image, of someone who happens to be a personal hero.
The photo was uploaded/shared to Wikimedia Commons by the person who took the photo, a user know as Machocarioca, and it's source listed as "Own Work".
Yes, cross out the copyright:
Once more:
I, the copyright holder of this work, release this work into the public domain. This applies worldwide.

In some countries this may not be legally possible; if so:

I grant anyone the right to use this work for any purpose, without any conditions, unless such conditions are required by law.
This of course is both wonderful and understandable.
But what seems to me to be lost is that for the most part, the way people interpret a public domain license is, "Oh goody I can use this image and I do not have to bother giving attribution."
Yes, legally, that is true. That is the minimum condition to satisfy the terms of the license. That's like getting a "C" in class. That's doing the minimum.
The problem I see with this approach, is that when I put my work out in the world, using all public domain licensed content, when people see it… to them it just reinforces the idea that its okay to use any image found on the web without considering licenses or giving credit. And what if I am so taken by the style of that photo, what if I want to see more by the same artist? Maybe they have a classic one of Charlie Watts.
But in creating with unattributed, unsourced (legally licensed public domain) media, I am publishing informational dead ends. See my Dog and Cat example.
So my mode is Attribute Everything Possible. Even if I do not have to. Is it really that arduous to do? Why?
I am modeling behavior of reuse integrity. If I do not have to attribute and I don't, who knows if I am being good reuse citizen? What kind of example am I setting for others, especially students.
I can help people find related media, either form the same creator or from the same collection.
And, most importantly, I am expressing gratitude, appreciation to the person who shared it.
So please, do not take a public domain license as a freedom to skip giving credit. It might take you another 90 seconds to copy a URL or photographer's/collections name.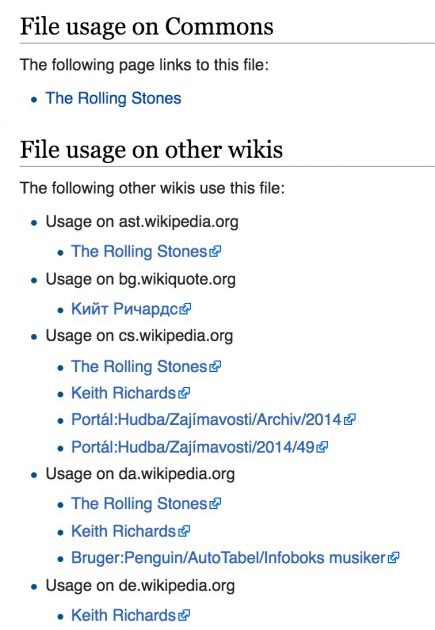 One of the nifty things about the Wikimedia Commons system is that it also tracks where the media is used on other Wikimedia sites. I counted 54 re-uses of that Keith Richards photo.
Maybe it's because it is a great photograph.
Maybe it's because it is a great photograph of a pop culture hero.
Maybe it's because it is a great photograph of a pop culture hero shared under the most easy to understand and free (as in freedom) licenses.
Both Wikimedia Commons photos used in this blog post were uploaded, and openly shared by individuals. I am making my only plan to do som regular uploading of more of my own images, and to make them available under what I will call the Keith Richards mode, public domain.
It's good of you to practice and share the idea of reuse of open licensed images. But don't just go on the way of "if I don't have to give credit I won't". Make the extra effort.
And if you have stuff, don't share photos of dog crap with such ridiculous terms. It's just dog crap.
---
Top / Featured Image: Thinking of the idea of Occam's Razor, my first search was on "razor" in Google Images with filter on for licensed for reuse (are there other usable options?), but most where modern shaving devices. So I added "antique" to the search box and got many usable images.
The one I used was uploaded to Wikimedia Commons by someone named "CoffeeAddict", labeled as "own work", and shared under a Creative Commons BY-SA (Attribution / Share Alike) license.