I've got my hands in two current connected course sites that rely on the Feed WordPress syndication approach— one is Open Learning 17 led by Gardner Campbell and the other is the Networked Narratives course I am co-teaching with Mia Zamora.
We've had a bit of a circle around on a part that has little to do with the concept, but does matter for how the syndicated content appears on the hub site. The theme on first site I cut most of my teeth on, DS106, does not make use of featured images, but most modern themes use them to have a more graphic balanced site.
Here are some on posts syndicated into Open Learning '17: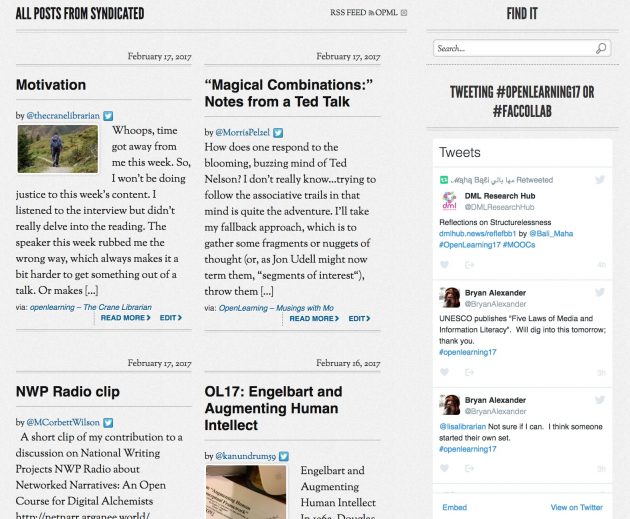 And here on Networked Narratives: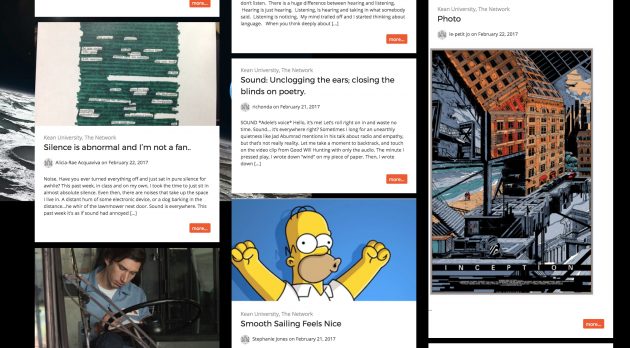 The thing to keep in mind is that a featured image is really only a WordPress construct for an image chosen to represent a post where-ever it is listed in list of posts and/or sometimes how the single post renders. There is no data for featured images in the RSS feeds used for syndication– it's not part of the content that comes from sites run in tumblr or blogger, and even WordPress RSS feeds lack a place to bring that information in.
The trick around this has always been to use the first image found in the content of the feed as the featured one. A plugin has to make a copy of a remote image (which they all are for syndicated content) to work as a featured image.
For a few years I recommended the Feed WordPress Advanced Filters plugin but the last few sites I used it on, the plugin repeatedly downloaded repeatedly like 10 or more copies if the same image. And furthermore, the plug generates a fatal error on version 4.5 of WordPress.
More recently, while working on syndication sites for VCU, I found one called FWP—SIC–Em sitting in their Rampages multisite. "SIC" is Syndicated Image Cacher and the bonus is that it's developed by the guy who writes the Feed WordPress plugin.
This one did fine for a while; I had it running on this very site too (I syndicated in a few other blogs where I write externally).
We got reports of server outages, non-repsonsiveness, or just the White Screen of Nothing on the Open Learning site. With help from Tim Owens at Reclaim Hosting, we found the problem was a memory leak for the FWP—SIC–Em plugin.
[

14

-

Feb

-

2017

13

:

07

:

16

UTC

]

PHP

Fatal

error

:

Allowed

memory

size

of

205520896

bytes

exhausted

(

tried

to

allocate

13824

bytes

)

in

/

home

/

xsxsxsxs

/

openlearninghub

.

net

/

wp

-

content

/

plugins

/

FWP

---

SIC

--

Em

-

master

/

sicwebimage

.

class

.

php

on

line

305
Disable the plugin and memory issues vanish. I submitted an issue to the developer, but he tends to be rather lax about paying attention to issues. Line 305 is a call to a function in the unix gd graphics library. I poked around the code to see if I could find an end around, but no dice.
So neither of those plugin are viable. I went back to try the Auto Post Thumbnail plugin (this blurb is from the post announcing it):
As the name suggests, the plugin will automatically assign a thumbnail to your post when you publish it. The first image in your post is used as Post Thumbnail. This is irrespective of whether the image is an uploaded image or inserted through URL. The plugin will do whatever it needs to assign it as Post Thumbnail.
I had thought the last time I tried the plugin that it was not working with Feed WordPress (maybe a conflict of hooking into WordPress? or maybe it was a theme issue), but after running it for a week, it's doing perfectly on the Networked Narratives site (the theme for the Open learning site has its own capability to make featured images, so I'm leaving it unless the folks running it ask otherwise).
This is typical of how we ride WordPress, sometimes going round and round to we find what works… until it doesn't.
I will make some updates to the part of Feed WordPress 101 that deals with Featured Images.
---
Featured Image: Big Carousel flickr photo by cogdogblog shared into the public domain using Creative Commons Public Domain Dedication (CC0). This photo was taken at House on the Rock in Wisconsin where I visited in 2006. It was years later I found it to the the location of the big show down in Neil Gaiman's novel American Gods.