I promise that I am writing this post that will contain nothing even close to an answer, solution, even coherence to all the scrambling effort to plan for the post-Emergency-Learning-Not-A-Pivot response.
Just idle speculation.
McSweeny's parody is just that, but there is a glint of reality under the sarcasm:
After careful deliberation, we are pleased to report we can finally announce that we plan to re-open campus this fall. But with limitations. Unless we do not. Depending on guidance, which we have not yet received.

https://www.mcsweeneys.net/articles/a-note-from-your-university-about-its-plans-for-next-semester
We have the pundits lamenting the loss of all that is holy about the in person lecture (I won't bother for the links, you've seen them). For a reasoned response, see University of Bristol's Tansy Jessop's piece in Wonke, "Let's lose the deficit language about online education"
Reading the national press at the moment you might think that universities had just performed the last rites over centuries of in-person and on-campus teaching.

The argument being pedalled by journalists whose experience of lectures was clearly more inspirational than mine, is simplistic and misleading. It suggests that a curriculum without live lectures equates to the end of all in-person teaching, as if practicals, laboratories, seminars, and tutorials do not count. Headline catching it may be; true it is not.

https://wonkhe.com/blogs/lets-lose-the-deficit-language-about-online-education/
Yet in all the pivot talk, there's a tinge of favoring the synchronous over the asynchronous. It need not be put one over the other, and it's also not just the Zoom Bashing. It's not about the platform at all.
Just like the lecture halls I endured, I had some that were enthralling and some that were coma-inducing. It was not the lecture hall nor the video meeting platform that's the problem (c.f. Pogo).
You can experience the Zoom pain in a class that is so off the edge that students have taken to playing the video to fool parents into thinking they are tuned into class (freeing them to game or watch netflix), read the comments
That same Zoom platform enabled my wife to run an incredible session of a 4+ hour nonstop, out loud reading of a novel with her high school students. It was maybe one of the most engaging sessions I've overheard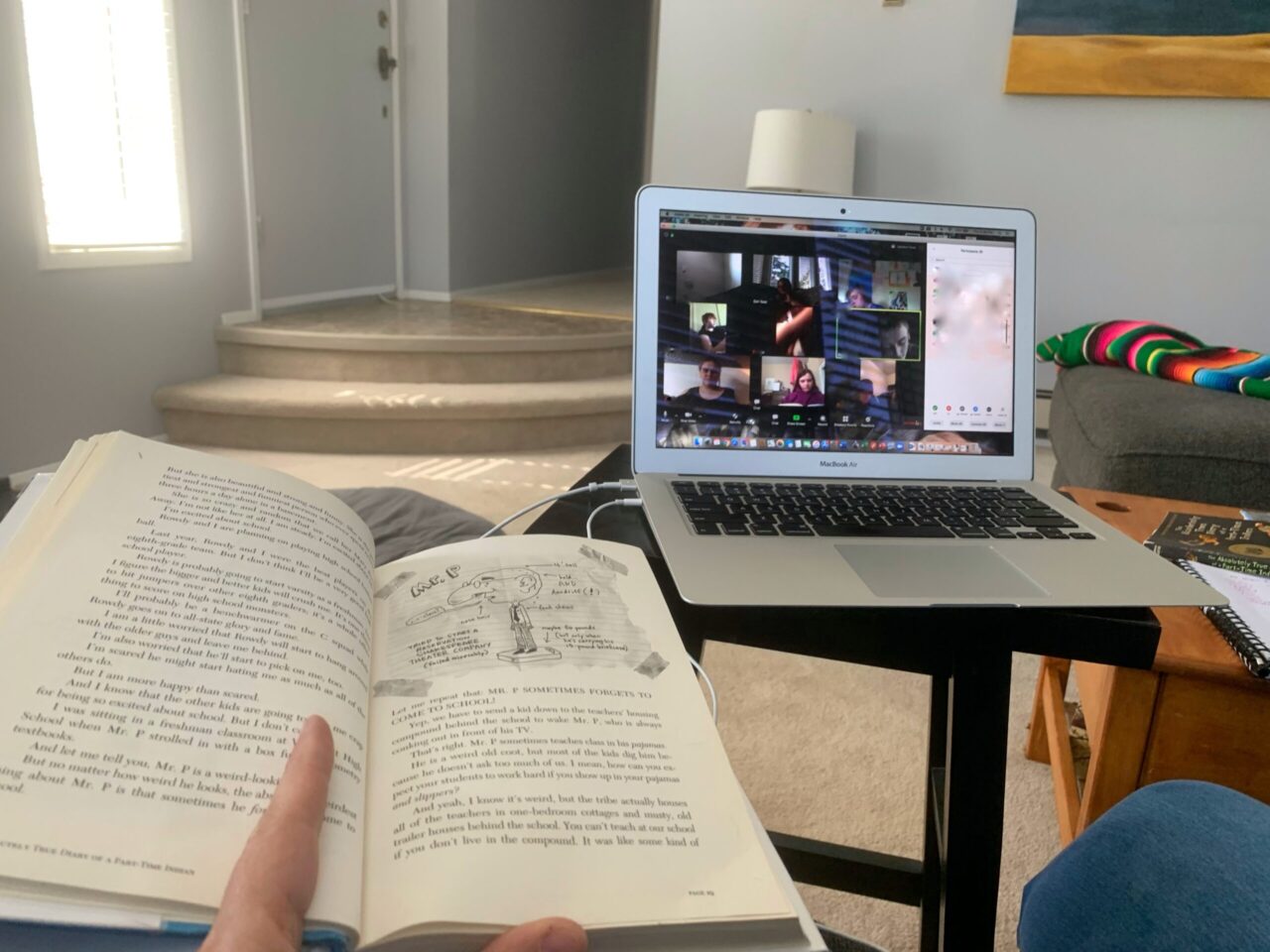 There is a real difference in the Zoom screenshots of students staring out of their boxes like deer-in-the-headlights and Cori's sessions where her students are engrossed in their book.
So it's not synchronous BAD / asynchronous GOOD.
Yet even today in a webinar, where a presenter was discussing the use of short videos, in the chat I saw a question like "How many videos do I need to make to chop up a 1.5 hour lecture?"
I'm finding a similar pulse for work I am currently supporting at OE Global, to support planning of their annual conference in November that is going to be online. I worry that a lot of attention for planning is placed on the presentation/keynote slots. Yet I think we ought to be placing a lot of thought and effort into asynchronous events and activities, more discussion space format than Zoom Room (actually both).
Do people think of asynchronous as adrift, alone in space? There's every reason to feel a sense of conversation in a place of being in different times there, exchange, that can be every bit as engaging as being there exactly together.
In terms of teaching, it seems now seen through sepia toned web glasses, is one of my favorite approaches, of participants/learners creating/writing/publishing in their own spaces and the class space being a syndication hub. The old gold ds106, which, as I must remind is still chugging along after 10 years, while in that span, most every Name Your Tech Fad has crested and sunk to the bottom of the Gartner hype trough. The Feed WordPress approach still works like a boss.
The #ds106 Bus flickr photo by cogdogblog shared under a Creative Commons (BY) license
Yes, the good old syndication bus. Connected courses.
The whole idea of distributed activity, woven in with daily challenges and assignment banks, was asynchronous beauty. But not without synchronous bits, be it class visits or running live sessions on ds106radio. Twas a mix.
But with the decline of blogging in general (my own lapses included), allure of social media or the institution demands for scale and data wrangling, this way has fallen to the side. Maybe it is too much effort? I cannot buy that.
If anyone is carrying the asynchronous flag proudly now, it's Laura Gibbs
But you see, I still don't have answers, lists, infographic formulae, just a bit of nostalgia.
Yet I am thinking we ought to be putting more effort, not all, into the asynchrous side of the house. I don't want to imply no one is doing it, but am I right that the tilting is often towards the other side as a preference?
So tell me of your asynchronous gem efforts. Or let me know I am full of gas. Heck, this blog gets so few comments, I might even welcome a spammer.
---
Featured Image: A mashup of a pixabay image of the Czech flag by Marsel Elia with Buzzword Bingo: Asynchronous flickr photo by planeta shared under a Creative Commons (BY-SA) license and a wee bit of Photoshop cloud rendering my moi.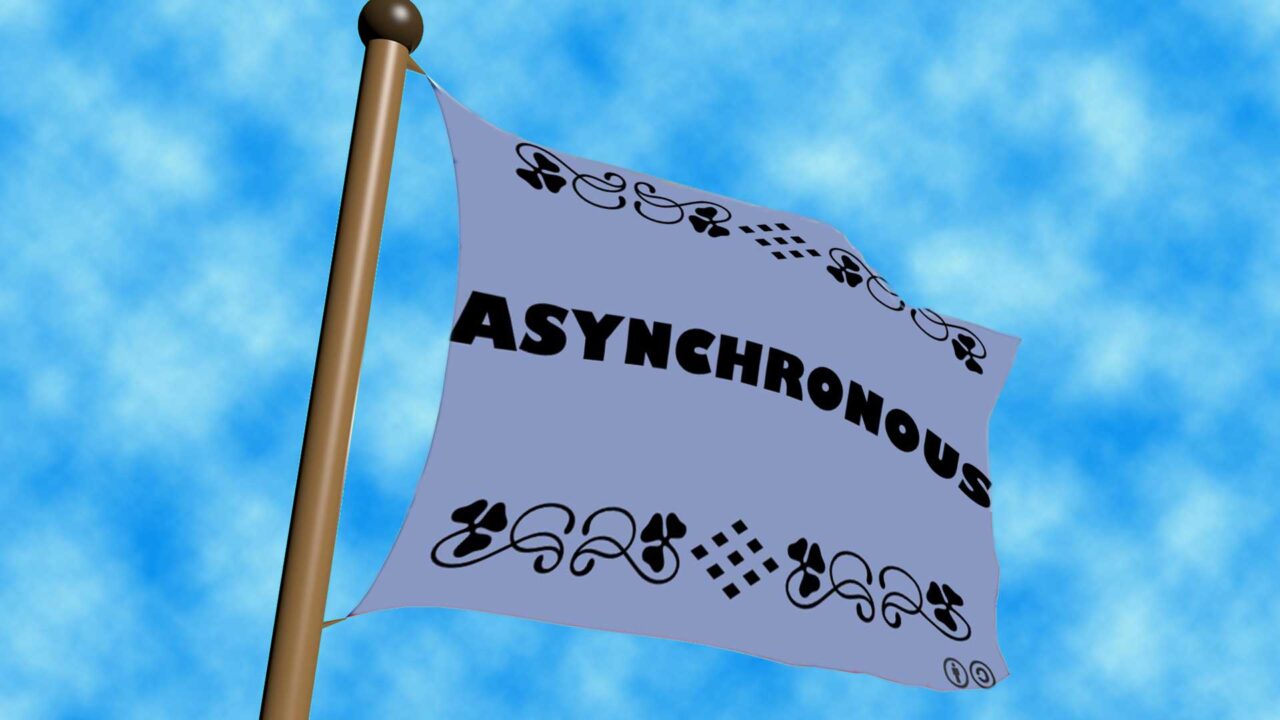 A side note about the flickr image. I kind of liked the flickr set of buzzwords:
But have to acknowledge the point raised by Anne Gagné
I tried to comment on the flickr image, but comments are off and did not have any luck finding a way to reach the author. I regret any suggestion that access is a good buzzword.
But maybe asynchronous wil be seen as offensive!