As those great O2 ads went… "Be More Dog"
The other morning as Cori and I went outside, with Felix following, both of us humans saw the rabbit. Felix was oblivious as he scampered about. Even the rabbit was aware.
But once Felix looked at the critter, he took off in chase. Full force. He did not start with self doubt, or question the outcome, he just chased. It was not even close, the rabbit was quicker.
That's what I love about dogs, the go full force into the chase, without questioning the ability.
I've tried to take that on with a few often repeated, baseless factoids that get repeated so often online that many people automatically repeat as truth.
One that I have pursued for a while is the never sourced or proven claim that "people process images 60,000 times faster than text." Most typically it is cited bibliographically perfect form to a PDF from 3M. This looks legit, eh?
"Polishing Your Presentation." 3M Meeting Network Articles & Advice (2001) [Online Article]. Available: http://www.3m.com/meetingnetwork/readingroom/meetingguide_pres.html
Except if you actually check out that "source" (meaning find it in the Internet Archive, as I did in my first chase in 2012) you find this PDF is a promotional brochure and the claim is referenced as uncited "Research by 3M Corporation."
With some help from research librarian Alice Campbell, I traced it back as far as a claim (again never linked to research) in a magazine from 1982. The claim was made by one Philip Cooper, who I found was lecturing at the MIT Sloan School of Management. He made the claim, he would know the source. I emailed, I left voicemail trying to reach Cooper, but never heard back. I even offered bribes to people going to a conference in Cambridge to go knock on his door. No dice.
The rabbit is still on the run. And this dog is still on the chase.
Another one that has cropped up was an iconic image I found was repeatedly shared, pinterest after pinterest, with never any indication of the source of the image.
You likely have even seen the image. It is typically credited to "Annick Gérardin" without any more detail. I put by sharpest search skills to use, but came up without much. I chased:
A few posts cite it as from a book Paris Entre Chats… and so I just bought the book for $3.99 on Amazon.

Because that's how far I will go try track down a source.
And when I got the book in the mail, the "attribution" was listed as… "Annick Gérardin" with no more detail.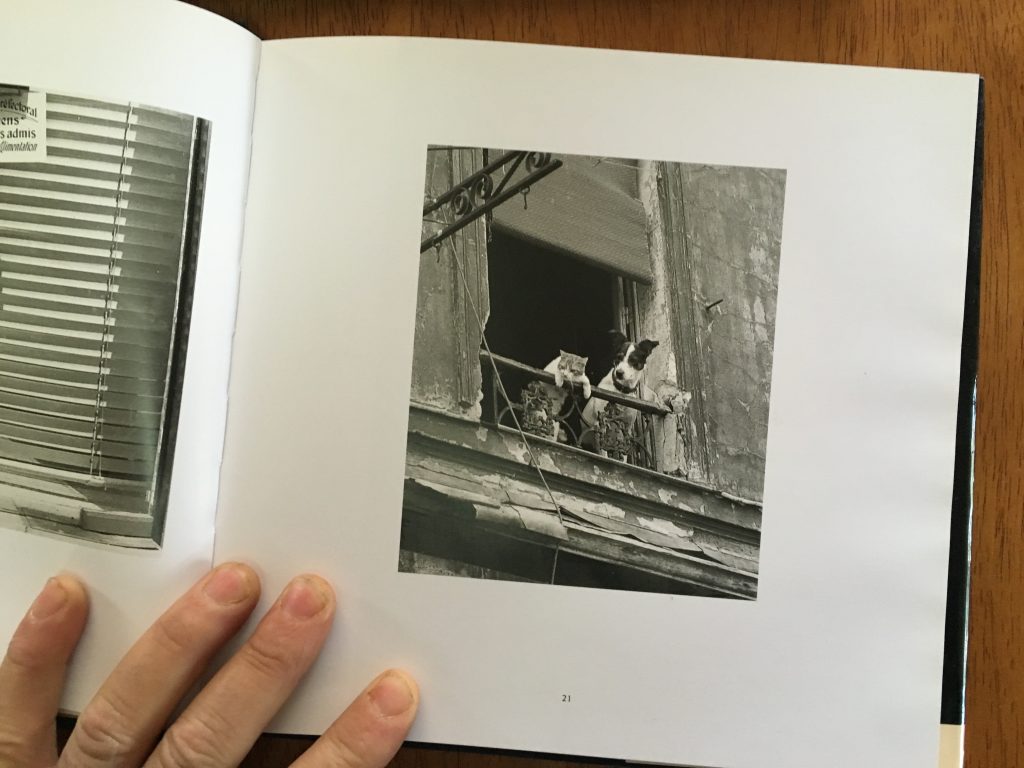 I find a few other rabbit chasers via comments on this post (yeah old fashioned blog comments), like Photogr@tte who found a vague reference in a Russian blog post.
And just this week, Jan shared that the image was found, in a most highly regarded place, a school web site from New Delhi, giving credit to Édouard Boubat.
I remain doubtful. It's just a photo on a blog page. Still, it was worth a kick up the dust on twitter:
And Irene Stewart, who I crossed paths with from my previous work on Ontario Extend (still rocking a domain of her own at procaffination.ca), did some clever digging shared with me by DM. Look at these search chops:
I used google advanced search to force it to give me only entries that were more than 10 and then 20 years old, region France. Then searched for the picture. Then I played with the last name of the person that had been credited and found out that it was close to the spelling of the editor of a major French newspapers, so I used the name of the paper with the photo and wartime photographer as search terms.

If you just use google.ca you get recent and Canadian sites first. google.com gives you US first so sometimes you have to mess with the advanced search to stop that bias. And I figured go far enough back to get rid of Pinterest 🙂
Irene found the image in the last of a series of 17 pages of photos attributed to "Willy Roney", with the title "Friends, 1950s"
Sure it's the same image. Who is "Willy Roney"? Another Russian language page Irene found, again in the highly credible "LiveJournal" site, indicates an alternative name of "Willy Ronis" – a rather prolific French photographer.
So is the inclusion of the Dog and Cat Staring Out the Window Photo on one nebulous blog page associated with another photographer, proof enough of the source?
Maybe Willy Ronis and Annick Gérardin are connected?? I searched on "Annick+Gérardin"+"willy+ronis" to see if they were connected. In the results was a lot of pinterest crap. But I found a blog post full of old photos of cats merely attributed with names where both photographers are listed in consecutive photos.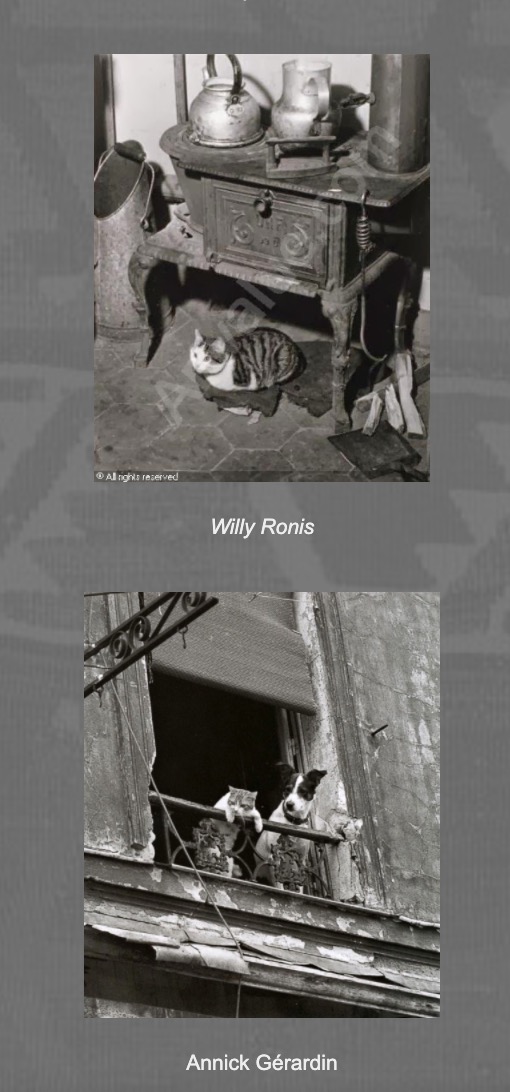 One can see that someone looking at the page too quickly might think the name above the photo is the photographer, not below.
That of course is just conjecture.
I may never catch this attribution-poor photo rabbit, but I am still on the chase. It is, after all, fun. And you find connections with a few other chasers.
So if you are ready, find me some better documentation to the actual source or at least some better verifiable documentation showing it is the work of Annick Gérardin, Willy Ronis, Édouard Boubat, or someone else.
Here is your rabbit: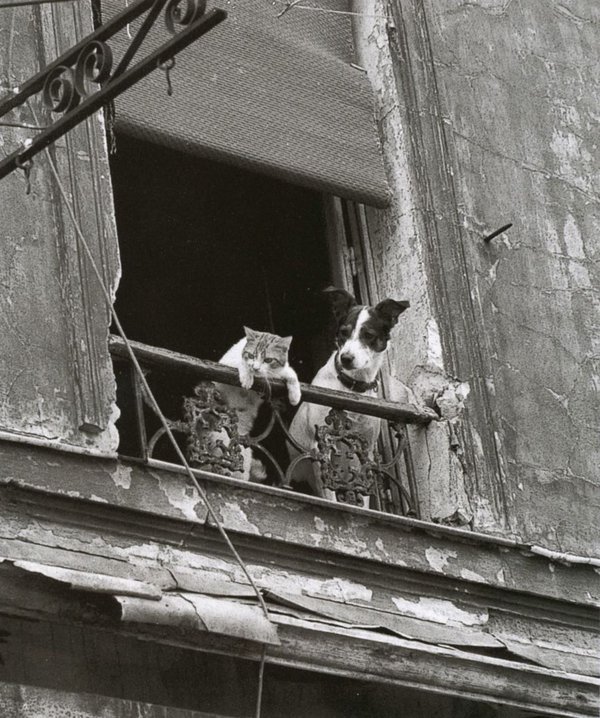 Chase it! Be more dog….
---
Featured Image: