I can't stop the curiosity impulse and sometimes feel obliged to chase down source-less photos. So it started with a Cory Doctorow tweet (just follow him, you will not be sorry)
Why this image? It's just road side Americana. Was it the tweet saying "circa 1970s" which was my childhood? That guess might be based on the vintage of the photo. The models of cars might push it to late 1960s but not too far.
The tweet goes to Wil Wheaton's Tumblr (which might be the source of the 1970s). Tumblr… yes it still exists. It was the platform that really enabled that "reblog" / repost thing. a one click way to just post to your site what someone else did. It leaves a trail of unsourced media.
Wil (can I call you by first name) reblogged this from a tumblr called Every Day Life in the Past. End of trail because no one in tumblr attributes photos. That's so not cool there.
What do we have there? A cafe named "Magic Chef" offering "Home Style Cooking" or maybe it was the "Eat Shop Cafe"– that's pretty damned unique. Not. Search results for Magic Chef Cafe land you mostly in appliance land.
I did find another image (via Google Lens reverse search) of the same restaurant from a vintage postcard seller ("MAGIC CHEF CAFÉ RESTAURANT PEPSI COLA SIGN OLD CARS ADVERTISING POSTCARD COPY", this image is the same place, but the cars are older: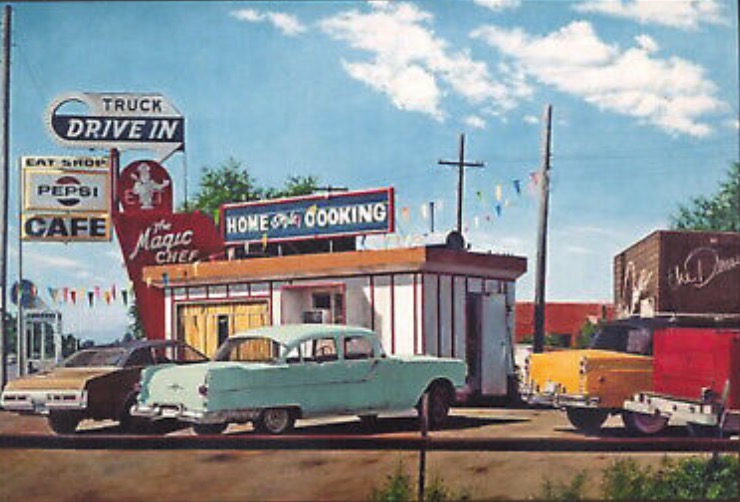 That could push it early 1960s? There seems to be a shop adjacent, some kind of Dance studio?
My trail ran cold. Most references to Magic Chef restaurant seemed to be ones that were later taken over and turned into other kinds of restaurants – Chinese, Filipino, one in Qatar, one in Abu Dhabi.
I thought maybe I would find a reference with an address and do the Google Street view visit, but alas, I went cold. Maybe someone else can go farther.
Not all the rabbit holing lands you some place, it just ends up some digging around. But always worth it. Well, to me.
UPDATE: March 1, 2022
See comments below as Eric Likeness has sleuthed this to the nth degree:
Eric wins the rabbit prized and also, for showing how the internet works- ask for help, offer help, it all makes for a nice circle.
---
Featured Image: