cc licensed flickr photo shared by cogdogblog
I've milked this story plenty of times before- during a 2007 workshop in Tasmania, I used as an example of the power of unexpected connections, someone the year before had commented on a flickr photo I had tagged as "unknown" and told me the kind of flower it was– what was amazing was the woman who did this was in the workshop (here I am telling it again in video, where you will here about 20 times the word "amazing".)
This just happened again today- out of the blue, un-asked for (and not even tagged or captioned with a request to help learn about the subject), flickr user "Sculpture Kris" added a comment to this photo of a sculpture I saw in Rochester, Minnesota.

cc licensed flickr photo shared by cogdogblog
telling me a lot more about "Boy on a Dolphin" then I knew before: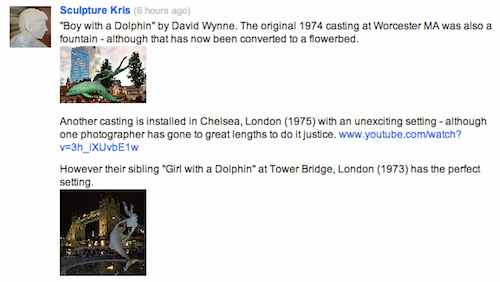 And ironically, there was a previous work by the artist, Girl with a Dolphin in London, that I bet I walked right past when I visited the London Tower Bridge in August.
Now this is really tiny, this is not open education or anything that will Reform Education as We Know It, but I am (flipping through thesaurus for some other word than "amazing")… astounded that people may seek out photos in flickr of things they have information on, and share them like this. Sculpture Kris did more than just comment, he/she researched the other photos on flickr, and added the Youtube video of another version of the Boy/Dolphin sculpture elsewhere in London (tactfully in front of a Mercedes Benz dealership?)
which then leads via related videos to a clip of a movie with Sophia Loren (and if you go further you are deep down a line of tangents that I am not taking responsibility for).
But back to this example- perhaps this could be an interesting exercise for classes learning about Web 2.0 tech / social media? Seek a shared piece of media posted in a site like flickr in a topic area that you know or are interested in, do some research to share some information, and post it as a comment. Comment some learning forward?
I have someone who regularly mines my flickr stream for photos that he posts to WikiPedia articles he helps author, and always lets me know when it is used; I end up reading the article, and damn if I end up learning something new. Again.
So I will use the "A" word again. Among the river of social media and the crap that comes across our TV news– we can use a whole lot more Amazing Stories (my self plugs for 2009 and 2010 versions of Amazing Stories of Sharing).
They are small things to do, yet powerful… and contagious.
Thanks Sculpture Kris, for the spark of my day.