Gotta feed the animated GIF bacteria that lives in my gut. I had a few sets of photos I have taken over the travel span that I took series of things in motion for the express purpose of making them animated. I did these in PhotoShop via the method blogged earlier – essentially importing files as a stack, setting frame sequences in he animation palette, and sometimes masking out to reduce the elements being animated. These will be tagged to end up in the Photo it Like Peanut Butter ds106 assignment.
First up, from the great state of New York, at the small town where I crossed the Hudspn River, I had just hopped out of the truck to take a photo of the bridge when the sound of a train grabbed my attention (I literally ran across the tracks to get the angle) – this one is 549k.
Next up, an animation from a single image. I had stopped to take a picture of Yet Another Crumbling Down Home. I really liked the look of this window and its composition, but it also looked good in black and white (same image, just converted). In this one, I masked just the inside of the frame to isolate a color change, and made the time it spent on the black and white frame about twice as long (and it is only 111k):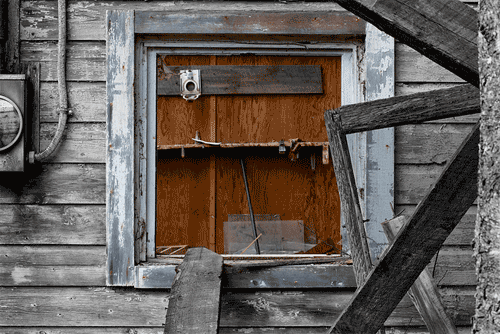 And for number three– this past weekend I stood on the place that is the southernmost point in Canada, a few hairs farther south than the California/Oregon border. As far south as Rome. While at Point Pelee, I was intrigued by the difference between the rough surf of the west side and the calmness of the East, but all of which is Lake Erie. I took a series of belly in the sandy photos of waves crashing over the rocks (the waves were about 12 inches high). This one has more frames than I usually like to use, but they work well, it comes in at 741k (I dropped the colors from 128 to 64 to help there).
Hmmm its a bit fast, might have to tweak the frame rate.
Those are Erie waves (not eerie ones).
Fun stuff them there GIFs.