As part of a ds106 final project story I am doing based on the Wizard of Oz, I have a part where Dorothy decides to go back to Oz. Not knowing how to find another tornado to whip her house (no one in Liberal, Kansas could explain how the house that was whipped to Oz was back in Kansas in tact. Continuity issues at the tourist trap).
I decided to to the Storytelling Within the Web assignment hoping to find a travel agency with a hippy theme:
From the Spring 2011 ds106 class came the idea of changing up an existing web page to tell a new story " you will be intervening in the code and design of a website of your choice to tell a story. You are not to photoshop the design of the site, but rather intervene in the actual html and CSS of the site""though you can photoshop particular images on the site. Essentially you alter the content of a web page (content, images) to make it tell a new story.
But I failed it surface anything useful. I did find that the authoritative hippy.com site is sporting HTML vintage 1997 (tables, baby, it's all tables and no CSS),
The Tecnomadics site seemed to come close enough to give me something to play with – the "hippies on http? banner drew me in. I set about in Hackasaurus to bend the text and media to my story. The one place I could not edit was the slider widget the have below the main header. Once I had saved the HTML from Hackasaurus, I opened it in a text editor, and deleted the DIV that contained they slider widget (as well as the fraebook iframe). I also got rid of a few lower blocks of content; the page was already long and I have enough for my purpose.
You (and Dorothy) can find my web edited version of this site at http://cogdogblog.com/stuff/gotooz/ozmomatics.html– its pretty heavily edited, all text and menus.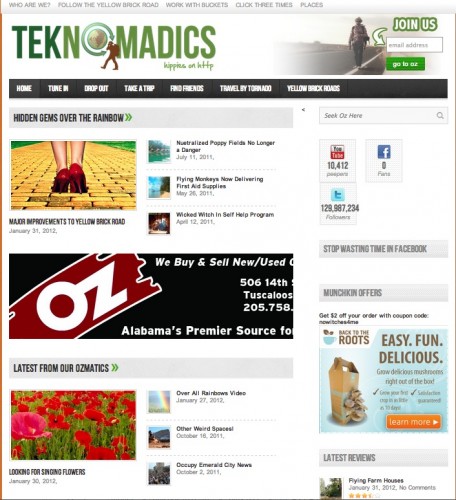 The idea is that it appears as this cool kind of travel site for hippies, but when Dorothy reads it, the content shifts to match her own personality and desires.
In fact, if you go under the "Take a trip" menu there is a link to "oz", a page that uses the earlier animated gif I made of the ruby slippers, and I set up that page when clicked to go to an embedded version of my backwards video.
The story pieces are getting more connected!