In the minor fiddling with code that probably no one will notice department…
I include the Daily Blank WordPress theme as a SPLOT since I worked on it early in the TRU fellowship where all the others were spawned.
Yup, I blogged about it December 2, 2014. It was created to make a generic version of the original DS106 Daily Create and first put to use for the YouShow Daily I ran at TRU.
It's in action at the place where it started, DS106 as http://daily.ds106.us, I have used it for two projects in Mexico, in the NetNarr class, and currently for the eCampus Ontario Daily Extend (see other places it has been splotted).
I happen to think it's a great approach to engaging people in trying new media creation, exploring new resources. And it's fun. Heck there's a leaderboard. But maybe the complexity of set up is a barrier, as maybe four have been set up by other people.
Anyhow, a long way of getting around to adding a feature. The site publishes a new challenge or create or alchemy each day, but tweeting it out is not part of the theme. I ran into some bumps trying to get a plugin to do it consistently.
So I have relied on the dlvr.it service to take care of tweeting; it uses the RSS feed from the sites to push out material. The theme has a section in the long documentation explaining how to do this.
I had previously used a feature in dlvr.it to add a hashtag to all outgoing tweets, for the Daily Create it would add #ds106 and a #netnarr would be added to all tweeted daily digital alchemies. This helps to get it in the flow of everything else tweeted for those communities.
But something stopped a few months ago. I think Kevin Hodgson told me about them disappearing, and some digging it appears that Twitter took this ability away by once again, changing their own API. From dlvr.it
Please note that we are no longer able to support adding hashtags before or after Twitter posts due to Twitter's terms of service update. This is to protect the safety of our users' accounts.
If anyone can tell me how adding a #ds106 impedes some user's account safety I am all ears.
All this is a long way of saying, I added an new theme option that allows a site owner to add arbitrary text to the title of each Daily Blank, e.g. like a hashtag. If the hashtag is in the original post title, there is no Twitter terms of service issue.
Huh?
Okay, when a Daily Create like today's is created, the site manager gives it a title, which is more or less the text of the tweet, e.g. Photograph a cactus or something thats fitting for a Western landscape, and make some symmetry art out of it.
When the Daily is saved, the theme looks for the last Daily created, increments the hashtag by a digit, and inserts the hashtag into the title of the post so now the title is #tdc2355 Photograph a cactus or something thats fitting for a Western landscape, and make some symmetry art out of it.
This new feature allows this site to also squeeze a #ds106 in front too:
So if this was published as a new Daily Create, it would have been published as: #tdc2355 #ds106 Photograph a cactus or something thats fitting for a Western landscape, and make some symmetry art out of it.
This won't go into effect until the previously 30 queued Daily Creates have been published.
Why even bother here? It's almost for my own needs, because I track Tweetdeck columns for ds106 like: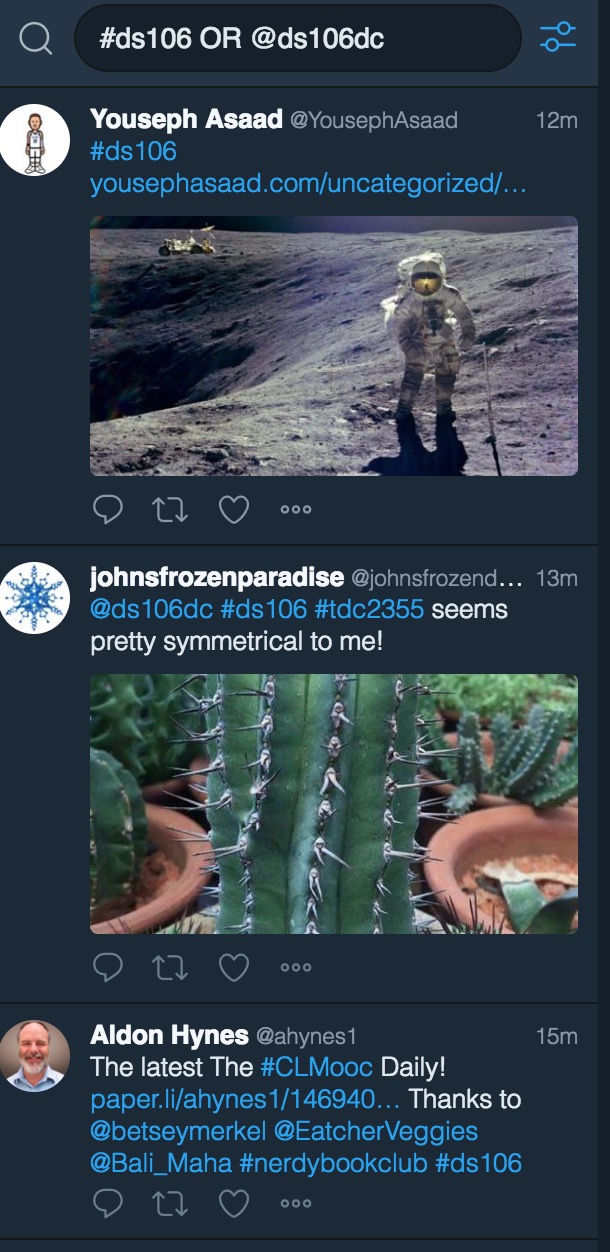 It's subtle, but this will pick up tweets that include either #ds106 OR @ds106dc but it wont get tweets from @ds106dc – it gets just replies.
So really, this feature is for me.
I'm welcome.
Also, for sites I have set up with the WP Pusher plugin? Automatic updates.
---
Featured Image: