Strap in (or hit eject) for a long blog ride. This has been one of those percolating drafts, meaning it has not progressed far from my head. But time is essencing.
As there are a wave of steps to weave together, I am borrowing in all sense of honoring, not stealing, a section convention from Kate Bowles' blog.
1.
Once again because almost no one cares for making the case of the power of RSS reading, I keep finding more reasons not to buy into the "twitter does it better" theory. I have a set of photography feeds I sometimes skim through at the title level. I cannot even deduce the reason why I got a nibble of curiosity for "The $10 Camera Photographers Are Snapping Up" (Fstoppers).
Curious clicking that was the opener to this whole run.
The author makes a case for the versatility of the old mid 2000s style pocket digital camera, but in this style I loathe in at least a lot of photography sites, asking me to not read, but watch a video of two photographers doing an outing with their $10 cameras. Loathing is because there's not much skimming one does from content in a video.
The video is well produced, and obviously the two had fun, but I find it all a but more style over substance.
That's me.
The thing is the video opened a memory stream, as I do not need to find one of these cameras used on eBay, I just need to rummage through my box of camera STUFF.
Memories flood in.
2.
My cameras are a thing I keep track of– by photos. Though it has been 14 years since I wrote of my lineage of film and digital cameras there is only one more not on that list, my current DSLR Canon 7D…assorted iPhones, a few forays trying some vintage cam— I got off track already.
The thing is in 2005 when I plunged into the first DSLR, the Canon Digital Rebel, I saw no direction going back to small pocket cameras.
Shift to 2007 while I was working for the New Media Consortium. Quite a few in that crowd were avid digital photographers. Two colleagues and fellow camera geeks I respect much kept going on and on to me about their little Canon digital cameras. I will call them Phil and Carl for now… well those are their names. These two made a case for what was then rather high image quality from the little cameras (7 MP), but more the affordances of a pocket camera for street photography, and unobtrusive photographer, in lieu of putting a Big Camera in front of your subject.
I took the plunge and bought that PowerShot 800 SD IS. And that was pretty much my main camera for a few years. On a 2008 trip to Japan I could not resist picking up an updated model (IXY 3000IS) that offered maybe twice the resolution and was not even available in the US.
I knew Carl would smile at those specs.
3.
Back in 2002 I was organizing district-wide technology initiatives at the Maricopa Community Colleges. In collaboration with then IT Vice Chancellor Ron Bleed, we organized a series of collaborative events/workshops called the Ocotillo Technology Visioning Forums.
This has much to say about the heady times I was lucky enough to be part of at Maricopa. The rationale of these activities was preparing for a bond election to fund the system, including instructional technology, which as noted there, from the previous planning in 1994 had not included the impact of the world wide web (as the web then was called).
Under the umbrella of bond planning, Ocotillo and Information Technologies Services (ITS) are sponsoring a series of Technology Visioning Forums that will bring to Maricopa a series of distinguished professionals, who will inspire and challenge our thinking about instructional technology and facilities for learning.

For the next X (3? 5?) years, what is the next "web" we might need to address for the future? What is the learning environment of the future look like? What do models of "hybrid" courses mean for planning? What sorts of technologies are we planning for? What do Learning Objects mean for course developers? How do we provide better physical (and virtual) learning environments?

Each Maricopa college will form a team to participate in the process, leading to a collection of outcomes to be further developed at the year-end Ocotillo Retreat.

Ocotillo Technology Visioning, 2002-2003
One of those "distinguished professionals" was a colleague (and friend) of Ron's from the University of Michigan named Carl Berger, who spent two days in December leading us through discussions guided in his theme of "Back to the Future: After WYSIWYG, What is the Next Killer App?"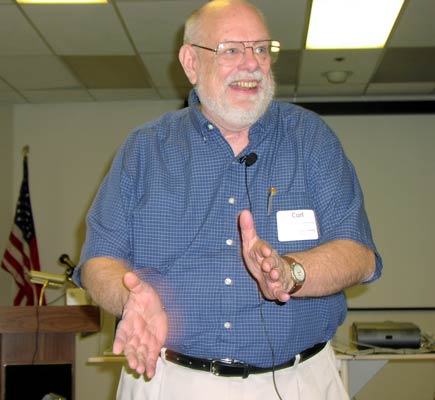 The excitement Carl spoke with was infectious, while at the same time backing his ideas with examples, experience, research, and a focus on pedagogy. Amongst the media I found from my old Maricopa MCLI web server archive (all was wiped out after I left in 2006) I found two 320x240px video excerpts from his talk- I patched together to share:
I also found a copy of Carl's presentation slides!
Here in 2002 he pointed out emerging technologies (just respect this from looking back 21 years) were wireless networking, these brand new tablet devices, learning objects, integrated administrative systems, open learning platforms, research tools, and a vision of a learning platform he called "the Real Processor" explained through a narrative Maria, a professor using a platform that looked LMS-ish but was richer in complexity.
But these forums were not just slidedecks and cheese sandwiches, there was a whole lot of group discussion, brainstorming, and collaboration between faculty, technology staff, and administrators. And, can see it because I found an archive of photos from these events, assembled in a funky Javascript slideshow thing I built in maybe 2000 called the jClicker (I am shocked it even works!):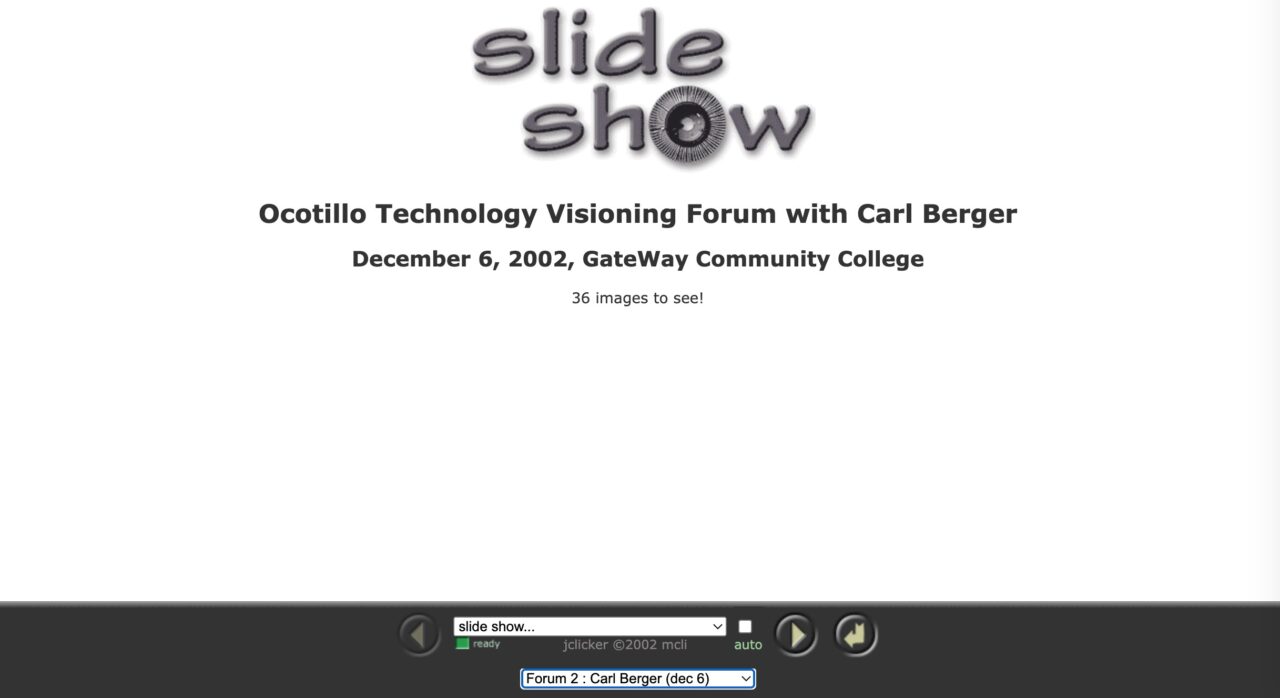 4.
When I took a leap from Maricopa in 2006 to work with the New Media Consortium, it was a more than pleasant surprise to be at the conferences and connect again with Carl. Here he is gleefully uploading photos he is taking with one of those small cameras at the 2006 NMC Conference in Cleveland.
As I learned Carl was right there from the birth of NMC and was at it's first conference in 1995. Later, on a visit to his home, he pulled out and gave me a mint condition T-shirt from tha conference (I still have it).
And always Carl was beaming with his excitement about new Apple technology, the latest photo editing software, and always with some new kind of camera. He was active always in the era of NMC's Second Life period (look! I even found him in the directory as an avatar named Carl Oxberger).
In more image rummaging, I am so happy to find Carl in a photo listening intently to another fantastic friend colleague, Bryan Alexander, here at a 2009 EDUCAUSE ELI Conference.
The photo becomes even more special to me because of the gracious comment of another influential colleagues/mentor, George Brett, who passed away in 2015.
For no one keeping track of the camera stories here, at this time I was using much that small Canon as well as my first iPhone. But the small camera came back in a big way through an unusual device.
5.
Once again,toward my latter years at NMC, I was the beneficiary of a lucky connection. A new colleague named Keene Haywood knew of my interest in camera, and told me about his Austin friends at an outfit called Charmed Labs were developing beta versions of a thing called a "Gigapan". I was a robot controlled mount that would move a camera methodically through a grid pattern and worked with a stitching type of software to create potentially a GigaPixel panorama image.
I was curious, and Keene hooked me up, and I bought I believe one of the few beta versions of the metallic box rig.
At the time, it could use only the small cameras, and I did a bunch with that first Canon Elph, seen above. It became an object of curiosity in public spaces when people would watch it go through its robot maneuvers, moving a bit, the robot rm clicking the shutter, tilting a bit, and repeating. See it in action:
I recently came across the box where I had stored the rig; it's been 10 years maybe since I even used it. I assumed that the software that made the images was long gone and after showing it to Cori I said I did not see a need to keep it. "No way!" she said. "That's part of your photography history, put it on the shelf with your camera collection."
Out of curiosity I did the Google thing and found out how wrong I was- the software is still out there and the Gigapan site is alive. I even found my own collection of panorama images, all there. I give em a CogDogBlog howl of praise for keeping a web site going 15 years later.
One scene popped out, a panorama image I made on my last day of my 2008 Month in Iceland adventure, when I drove out to see Þingvellir (that place where they were doing democratic forms of government in 930AD).
Typical of most off the highway places I explored while living in Iceland, I saw no people when I got there. So I set up my Gigapan rig to capture a scene.
Then car pulled up! Three American college age students came out. I was shocked when one guy looked at my rig and asked "Is that a GigaPan?". As it turns out, he had worked at the Carnegie Mellon University where it was first developed.
Now calculate me the odds of that.
Speaking of long odds, I got an email request in 2011 to use the scene I had made that day for use in a book. They wanted the biggest highest resolution possible, I remember doing some hijinks in PhotoShop to generate the format of a TIFF file.
And here is something I know would make Carl smile, a photo stitched together from that little Canon camera was printed in the largest picture atlas ever, a book that is six feet high! That has to be my biggest (literally) credit ever.
6.
I kept in touch with Carl, and it was rewarding to see he had retired and settled in St George, Utah. The last NMC Conference I was part of was the 2010 one at Disneyland, never a place that was on my list of destinations, but conference location picking was not my department. Since I was living then in Northern Arizona I made a decision to skip the air travel and drive to LA, the way out taking the dull Interstate 40 route.
But this made for a scenic backroad return trip, which I had arranged to pass through St. George, at an invitation to stay with Carl. He was eager to show me his latest Lumix camera, but the big part was an outing he set up for us to do some photography together in Zion National Park, one of his favorite places.
What a glorious and ideal a day! Carl was as usual so xcited to share with me his experimentations with HDR photography, later resulting in my buying at Carl's suggestion a copy of Photomatix Pro software.
Here is an HDR image I later made using that from a photo, which if you read the flickr comments, credits Carl and the software from rendering a fantastic image from originals that were not so great.
I also steered a trip through St George in 2015, on the end of the longway back from a 5 month stint at Thompson Rivers University, in Kamloops BC. I took an even more back way across Nevada (The Extraterrestrial Highway) before pulling up to Carl's home in St George.
Again, I got a huge warm welcome from him and Shari, we chatted, he showed me his latest geeky toy, a Cardboard VR Camera. If you look at the table, he has more toys out!
Like previous visits together Carl urged me try another photography software, Intensify. So again, I bought software Carl said I should use– and to this day this is maybe the main photo editing tool I turn to whenI cannot tune the image the way I like with my normal controls. I use Intensify usually on 1 or 2 images of my daily photos.
Thanks, again, Carl!
And again, Carl has no limit on his energy and enthusiasm. He suggested a photo outing to the luscious sandstone scenery of Snow Canyon State Park, where we spent hours poking around, climbing sandstone bluffs, taking photos.
Look at this scene– forget Waldo, can you find Carl?
7.
That was eight years ago I visited Carl. Over time, I'd still "see" him active in his flickr stream and we'd "talk" occasionally in comments. I slacked a bit in emailing after I moved to Canada in 2018, but saw some new flickr photos in December. I commented once or twice, asked if he still used his same mac.com email.
Now if you think all of this is written in eulogy like fashion, you are wrong. Well… I got an Instagram message from a mutual colleague who shared that Carl posted in Facebook that he was in hospice with maybe 3 months left to live. But they said he was posting photos a few have come in flickr usual scenery stuff and his little dog, Thor. As my colleague knew I was not on Facebook, they relayed this message from me to Carl.
Hi Carl, I don't use Facebook but was excited to see a new Flickr photo today of Thor. There's nothing like the companionship of a dog! I'd give anything to be now walking with you in a Zion canyon, geeking out on cameras, HDR, and hearing your joyful laughter. I regularly use the Intensify CK software you recommended! No need to respond just keep taking photos. With you in spirit,  friendship always, Alan
I cannot say enough (well I tried) about the 21 years I have been lucky enough to know and be friends with Carl. They do not even make these kinds of leaders and visionaries any more; ones like Carl who are not in it for ego or spotlight, but because he cares about and loves his work. Carl has been huge influence on me as a mentor, and moreso as a friend.
From little cameras to big panoramas, I am fortunate to have known to the genuine laugh, love of life' love of teaching, and the big heart of Carl Berger. Keep on clicking the shutter, Carl!
---
Featured Image: A collage image made from a photo of my old Canon Digital Elph (that Carl inspired me to buy in 2007) That Little Camera flickr photo by cogdogblog shared into the public domain using Creative Commons Public Domain Dedication (CC0), with on the screen a photo of Carl from our 2015 outing — The Eye of Carl Berger flickr photo by cogdogblog shared under a Creative Commons (BY) license plus a screenshot of the Gigapan.com web site.