Breaking with the usual long winding blogging, let's go directly to the demo.
What was once a hand spun web site with some funky, no longer plugin called Cool Iris then a template-tweaked WordPress site with a google form to collect stories, is now, an open collection available to take stories in video, audio, or other image format powered by SPLOTbox.
Check it out!
What are these "stories"? Try a random spin, browse away, or just jump in and add one.
And Now, the Long Winding Blog Post
The original pitch, penned to the web in August 2009 as a presentation at the 2009 Open Ed Conference, still holds up:
While the Open Education movement focuses on institutional issues, a large ocean exists of powerful individual accomplishments simply from tapping into content that is open for sharing and re-use. As colorful as old covers of "Amazing Stories" magazine, this presentation shares moving, personal stories that would not have been previously possible, enabled by open licensed materials and personal networks. Beyond my own tales, others have been culled from the net, and you can share your own.

http://cogdogblog.com/stuff/opened09/
Like now, where much in open education is about the "stuff" .e.g. OERs often conflated as open textbooks, my memory of 2009 was that the "field" (whatever that really is) was about "stuff" like Open Courseware (OCW). Actually, digging up the shreds of the program from the Internet Archive, my memory is faulty. There are sessions about OCW, but people then were focused on open textbooks, alternative credentialing, etc.
Still, at the time, when I dreamed up this presentation, I wanted to focus more on, how it came out of one impromptu video recording of Nancy White, open as an attitude, as a way of being in the networked online space yet to be corrupted by social media.
To be honest, it came from my own experiences of serendipitous connection when someone I did not know found something I created, and did something with it I never expected or anticipated. And then shared it back.
There was a German band using my photo of a sign in death valley as a cover for the CD (they sent me a copy in the mail) and how my Writing HTML tutorial led to an invited visit to Iceland. The all time favorite, I still cannot recant to this day with a shiver at the sheer improbability of it, is about a flickr photo of a flower tagged "unknown."
There were about four eras in the web sites for this collection. You may not care much, but I do.
Amazing Stories on the Cool Iris Wall
I put out a call for stories in June 2009 (lots of broken links, dead embeds there, that's the linkrot of 2020). Some folks sent video, but many others I recorded via Skype calls.
The "Amazing Stories" concept was meant as an homage to the magazine series that goes back to the mid 1920s. I had found somewhere a vast archive of cover art what I thought were remixable bits of art that I developed into maybe 9 versions for the themes of the stories "Amazing Stories of Travel Made Possible By Sharing", "Amazing Open Organizations (that really exist)", "Amazing Stories of Helping Others (and they did not expect anything in return)".
I'm refraining from posting since as you will find in the next section, a wee problem came up. But by the time of the conference in August, I had 32 stories in the treasure chest.
What was really fun for this, and a still hear from folks that were there, was I found a non slidey, 100% web-based way to present in a non-linear fashion. Meet the wall of media powered by Cool Iris:
Powered by a browser plugin (now dead, Flash victim number 3,557,134), I could display a wall of images or video, it could be pivoted into this sideways perspective. Each click could either play the video or open a web link. I could navigate sequentially with my arrow keys, or just click around. And everything you see was generated by an RSS file.
What worked well is I could set up and paraphrase a story, and then use the CoolIris wall to just play sample of the story (they were all there for anyone to go back and watch later).
I had come across Cooliris earlier, maybe in 2006, when it was known as PicLens. A March 2008 New York Times article by John Markhoff. In the early period of the iPhone touch interface, it was somewhat cast (not by me) as a means to possibly replace the browser interface of the web:
PicLens currently offers a small icon cue inset in each Web photo that lets users know they are at a site like Facebook, Google or Flickr that can be browsed with the software. Clicking on the icon transports the user away from the conventional page-oriented Web into an immersive browsing environment.

The software does away with the browser frame and gives the user the effect of flying through a three-dimensional space that feels like an unending hallway of images. In the future, the Cooliris designers plan to make it possible to browse text and video as well.
What was interesting at first is that it could be used to display a wall of flickr photos or YouTube videos from just providing an RSS feed for a tag (back when YouTube actually did RSS). I likely experimented with it in those ways.
I thought this presentation was the first I did with CoolIris, but I had been using it since February of 2009, the first time I can find writing about it was for a presentation at Scottsdale Community College called "The More Things Change… the more things change" (save a click, the CoolIris part does not work anymore). Here is a screenshot:
I thought at first I could make the "slides" as a flickr album, but as I wrote, while digging around the CoolIris developer docs (crumbs left in the Wayback machine), I found I could generate a CoolIris mixed media presentation by creating a funky kind of RSS, or MediaRSS.
I found a few more I did before the Amazing Stories talk in February 2009 (I searched my computer for piclens.js the script that ran things). Again, none of these will work.
I was even featured in 2010 as a "CoolIris Enthusiast" – oh the fame of it all.
And I did a few more iterations of Amazing Stories, but I think you've had enough of the CoolIris Coolness that You Cannot See.
Except.
In 2015, after CoolIris had been bought by Yahoo and disappeared into their great void, I was looking for a way to make these presentations work again (they relied in a hosted .swf from the original web site). I found a copy somewhere, and at least for a few years, I could reactivate my old presentations.
Of course, Flash was not meant to be, so they pretty much are dead again. At least I was lucky enough to capture the experience in a screencast:
After The Lawyers Called, "True Stories" Emerge
I did a few more iterations of the Amazing Stories show. Then, in October 2012, the email came. I got the Take Down slap.
Apparently what as not a problem were my remixes of the magazine covers (or they missed that), but the use of the name "Amazing Stories" was described as a copyright infringement.
Yes, I could have fussed, but I shrugged, and in November 2012 rebranded my stories as True Stories of Open Sharing, using art and the title from a clearly Public Domain comic.
For me it was fun to create a new series of cover art.
The WordPress Version
In February 2013 I was preparing to do a version of the True Stories of Openness for ETMOOC, and ran into some corners from the old manual web site way I had been doing this. As it was blogged
I was not happy with the way my site was working out to present the new collection of True Stories of Open Sharing. I found my categories were forcing me into artificial classification. And the nifty gizmo I had used previously, CoolIris, for the "wall of media", works, but is annoyingly tedious to update (manually editing of a Media RSS file). I also thought I could embed videos directly from YouTube, but no.
This seemed to be a job for … WordPress! I put to work theme I had been using to be my photo gallery, and ran with it.
I put in some custom code to randomly display 5 at a time on the top, and then the smaller list of 20 at the bottom. This did well, over time, it ran up over 110 more stories.
To be honest, they did not come in on their own. Typically, I might have been asked to do a version of the presentation, so I would rev up a new video request, spread it out via the blog and twitter, and a few more might come in. I also ended up a few times just asking while presenting, if anyone had had such an experience. If hands went up, I asked if they would be willing to tell one right there (and I would record, if they were ok).
This worked out flexibly as I could now create collections for different presentations, like ones shared for the 2015 K12 Online Conference and ones assembled for a 2013 talk at Yavapai College (also archived by myself).
Maybe the last talk I did on this was at the 2014 Share-E-fest conference in New Zealand and a variant in 2016 for the UDG Agora project in Mexico.
The site pretty much has been sitting idly. Until last week.
Generation 4: The SPLOTbox Version
I've been thinking maybe 2020 is a time to open this up again, maybe as an activity at the upcoming OE Global conference I am helping support. I've slid back to a combo title, "Amazing/True Stories of Open Sharing", which is not a copy of the one I got slapped with for brand squatting (I hope).
The last WordPress version was okay, but not quite nicely responsive on small screens, and the text was hard to read. I was thinking of perhaps a theme that would work well for a media collection of mostly videos…
…and then there was a gong like sound as the skies opened.
I had the perfect theme for this, SPLOTbox. Not as much for the display, but because the ability to collect stories was built it. I would not need to send people to a Google form, and then manually build posts from what they sent, the theme does all that.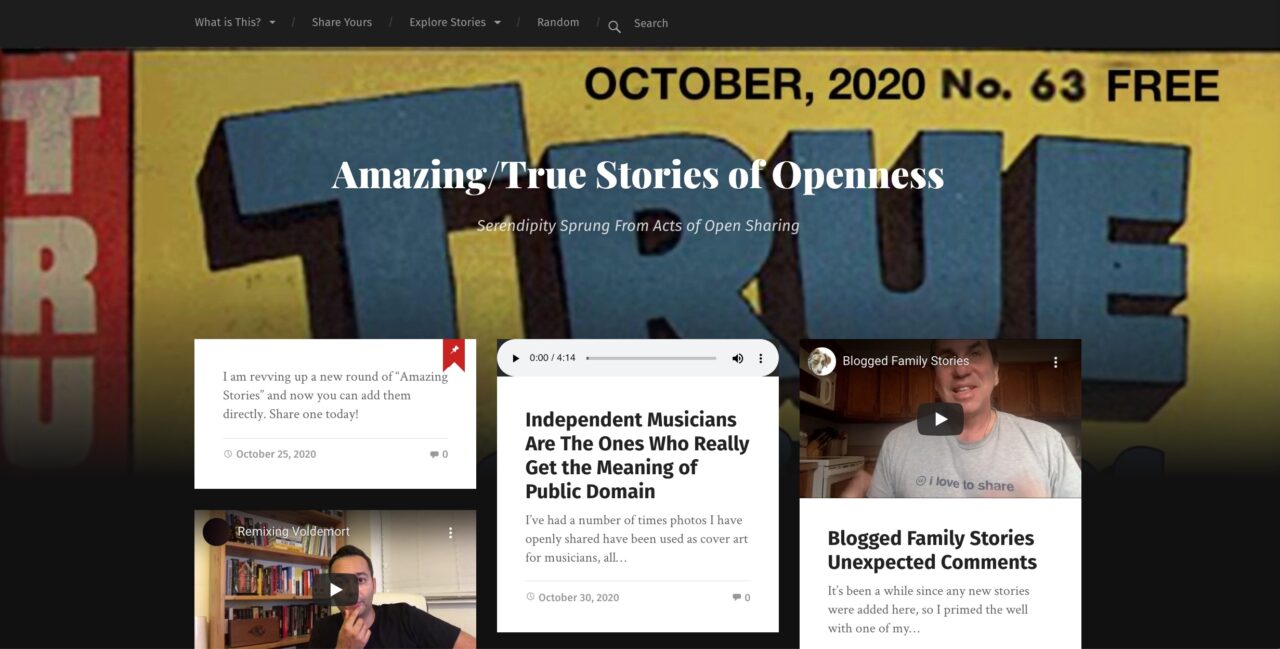 But it does more- as it can take video from vimeo and YouTube as submissions, there is also the ability for add audio from say soundcloud, or even upload audio… and the big BOOM! I had built in the feature to directly record audio into the site.
It was like I built the theme for this use.
And even better, I did not have to build or even import the 111 exisiting stories. With the great Installatron tool I get as a Reclaim Hosting customer, I could first make an archive of stories.cogdogblog.com at bones.cogdogblog.com/stories. Then I installed the parent Garfunkel theme, and uploaded the SPLOTbox theme.
Converting the content did mean a little review of each post. I had to move the media URL and the person featured into post meta data:

and also set the post format to video or audio.
What is good is that have not broken any URLs from the first version. Yay.
Here's what was interesting. I lost maybe 10 stories, perhaps 3 or 4 were no longer available on YouTube or vimeo. Another maybe 5 were not usable because they had been added in flash video format, and I had no originals.
But it's pretty good that a lot of YouTube/vimeo videos that are maybe 10 years old, are still there.
Then I noticed one interesting case, I had a story by Keith Lyons that was published in Audioboom. I have no support for Audioboom in SPLOTbox. But remembering that Keith passed away in May (and how his domain lives on), I spent a bit of time to update the SPLOTbox theme so it natively supports Audioboom URLs as audio (the code stuff perhaps better blogged separately).
But here is Keith's voice now listenable in SPLOTbox https://stories.cogdogblog.com/transformed/
The big advantage being run in SPLOTbox is that someone (e.g. you!) can record an audio story directly into the site.
I recorded this way for a new Amazing/True Story, Independent Musicians Are The Ones Who Really Get the Meaning of Public Domain
Your Turn?
I hope this serendipity thing still happens to other people. I see it often, and not just me. The question is- are you not amazed? and are you willing to share what happened? The door is wide open:
Fill the box…
---
Feature Image: My own image starting with a screen shot of the old Cool Iris interface, superimposed with images from the first two style of comic covers and screenshots of the 2 WordPress sites. Licensed open to do what ever you want (or if you need an official one,Creative Commons CC0).